Norse set DI win record in victory over UIC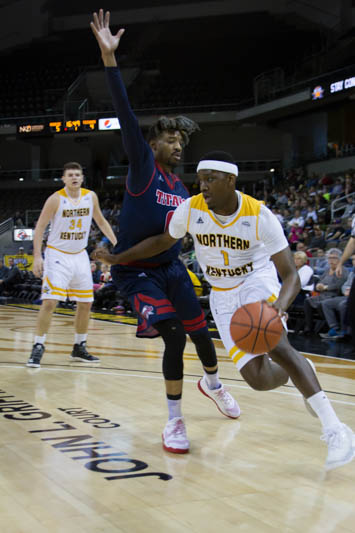 The NKU men's basketball team beat UIC 79-62 Friday night in Chicago to pick up their 14th win of the season, setting the new record for most wins in the Division I era. The win improves the Norse record to 5-4 in the Horizon League, while UIC falls to 4-4 in Horizon League play.
The Norse shot 41 percent on the night while holding UIC to just 36 percent from the floor. The Norse defense turned UIC over 23 times and scored 26 points off those turnovers. They also held the Flames to just 33 percent in the second half and outrebounded the Flames 45-42.
After a 29 point performance last Sunday, guard Mason Faulkner followed with another good performance. Faulkner finished with 19 points and six rebounds. Fellow guard Lavone Holland II followed with 16 points and six rebounds.
Three other Norse finished in double-figures, including 12 points from Cole Murray, all via the three ball, and Dantez Walton who finished with 10 points. Jordan Garnett finished with seven rebounds. 
Godwin Boahen led the Flames with 19 points and and seven rebounds while Tarkus Ferguson scored 13 points. They also combined for 12 of the 23 turnovers the Flames committed on the night.
The Norse will carry a two game win streak into Sunday, where they will face the current Horizon League front runner Valparaiso. The Crusaders are 17-4 overall and 7-1 in Horizon League play.