Strong second half propels West Virginia past NKU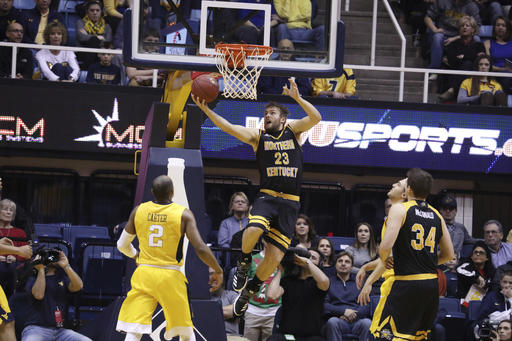 MORGANTOWN, West Virginia — NKU put an early scare into the 11th ranked men's basketball team in the country Friday.
The Norse led by eight early, but West Virginia clamped down on defense, forcing 25 NKU turnovers in a 92-61 win.
Northern Kentucky (9-4) raced out to a 12-4 lead after making its first five shots of the game. However, West Virginia would surge late in the first half to take a 36-29 lead at the break.
After shooting over 50 percent for much of the first half, NKU finished the first half shooting 44 percent. West Virginia (11-1) held NKU to just 34.8 percent in the second half, as the Mountaineers outscored the Norse 56-32 after halftime.
Carson Williams led Northern Kentucky with 12 points and six rebounds. Lavone Holland II and Brennan Gillis each had 10 points.
Tarik Phillip led WVU with 16 points. Four Mountaineers scored in double figures, and 12 players had at least one point.
The loss in the final non-league game of the regular season breaks a six-game winning streak for the Norse. Still, at 9-4, NKU will head into league play with a winning record for the first time since moving to Division I.
NKU will open Horizon League play 7:30 p.m. Thursday at Detroit. They'll stay in Michigan for a big early-season showdown with Oakland at 3 p.m. on New Year's Eve.
Summary
Friday, Dec. 23, 2016
at WVU Coliseum, Morgantown, West Virginia
#11 West Virginia 92, Northern Kentucky 61
N — 29 – 32 — 61
W — 36 – 56 — 92
(61) NORTHERN KENTUCKY (fg-3fg-ft-tp) Jordan Garnett 4-0-1-9, Carson Williams 4-0-4-12, Cole Murray 2-1-0-5, Lavone Holland II 3-1-3-10, Jeff Garrett 3-0-1-7, Tre Cobbs 0-0-3-3, Mason Faulkner 0-0-5-5, Brennan Gillis 3-0-4-10. TOTALS 19-2-21-61.
(92) WEST VIRGINIA (fg-3fg-ft-tp) Nathan Adrian 3-0-3-9, Brandon Watkins 3-0-2-8, Esa Ahmad 5-0-2-12, Jevon Carter 3-1-4-11, Daxter Miles Jr. 3-1-2-9, Teyvon Myers 4-0-5-13, James Bolden 0-0-2-2, Tarik Phillip 7-2-0-16, Lamont West 0-0-2-2, Maciej Bender 0-0-1-1, Elijah Macon 1-0-1-3, Sagaba Konate 3-0-0-6. TOTALS 32-4-24-92.
FIELD GOALS: N 19/48 (Garnett 4/8, Williams 4/8, Holland 3/8, Garrett 3/6); W 32/62 (Phillip 7/11, Ahmad 5/8, Myers 4/8)
3 POINT FIELD GOALS: N 2/16; W 4/17 (Phillip 2/4)
FREE THROWS: N 21/32 (Faulkner 5/6, Williams 4/6, Gillis 4/6); W 24/36 (Myers 5/5, Carter 4/7)
REBOUNDS: N 39 (Garnett 7, Williams 6, Garrett 6, McDonald 5, Faulkner 5); W 34 (Adrian 8, Carter 7, Watkins 5)
ASSISTS: N 4; W 13 (Carter 4, Adrian 3)
STEALS: N 3; W 17 (Carter 4, Adrian 3, Miles Jr. 3)
BLOCKED SHOTS: N 1 (McDonald); W 8 (Konate 4, Watkins 3)
TURNOVERS: N 25; W 8