Hill too large as NKU falls short at Illinois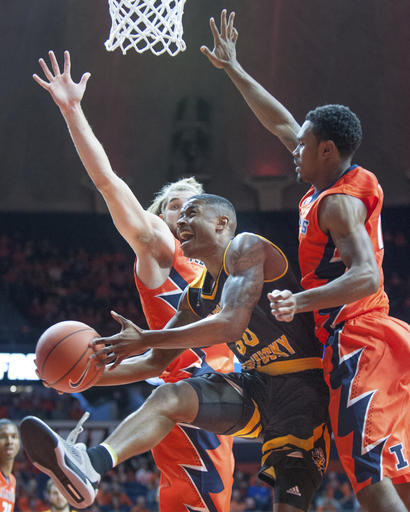 CHAMPAIGN, Illinois — After trailing by as many as eight in the first half, Big Ten member Illinois rallied in the second half Sunday to defeat the NKU men's basketball team 79-64.
A strong start propelled the Norse (1-1) to a 32-24 lead with 3:27 left in the first half. Illinois (2-0) trimmed the deficit to 33-31 at the half.
Illinois would pull head as the two teams went back-and-forth in the early part of the second half.
A Drew McDonald three with 10:44 remaining in the second half tied the game at 50.
However, Illinois would go on an 11-0 run over the next 3:02 to take a 61-50 lead. Malcolm Hill had nine of the 11 points during the run.
NKU got within seven, 62-55, but could get no closer. The Norse had a nearly six-minute field goal drought that sealed the win for Illinois.
Hill led all scorers with a career-high 40 points. Hill also pulled down 12 rebounds. 
Lavone Holland II led the Norse with 13 points, while Carson Williams had a double-double with 10 points and 14 rebounds. He also had five assists.
NKU returns to action Friday through Sunday at the Tarkett Sports Classic at Miami University in Oxford, Ohio. The Norse play Austin Peay 5 p.m. Friday at Millett Hall.
Summary
Sunday, Nov. 13, 2016
at State Farm Center, Champaign, Illinois
Illinois 79, Northern Kentucky 64
N — 33 – 31 — 64
I — 31 – 48 — 79
(64) NORTHERN KENTUCKY (fg-3fg-ft-tp) Garrett 3-2-0-8, Tate 1-0-1-3, Williams 2-0-6-10, Holland 5-3-0-10, McDonald 3-1-2-9, Garnett 2-0-1-5, Spellman 2-2-2-8, Faulkner 0-0-1-1, Gillis 1-0-0-2, Murray 1-1-0-3, Walton 1-0-0-2. TOTALS 21-9-13-64.
(79) ILLINOIS (fg-3fg-ft-tp) Tate 2-0-5-9, Abrams 2-0-1-5, Hill 13-5-9-40, Morgan 3-0-2-8, Finke 4-1-1-10, Coleman-Lands 1-1-2-5, Thorne Jr. 1-0-0-2. TOTALS 26-7-20-79.
FIELD GOALS: N 21/57 (Holland 5/10, McDonald 3/10, Garrett 3/5); I 26/59 (Hill 13/23, Finke 4/8)
3 POINT FIELD GOALS: N 9/30 (Holland 3/5); I 7/19 (Hill 5/8)
FREE THROWS: N 13/23 (Williams 6/9); I 20/30 (Hill 9/12)
REBOUNDS: N 43 (Williams 14, Spellman 5, Garnett 4); I 32 (Hill 12, Finke 11)
ASSISTS: N 9 (Williams 5); I 10 (Tate 3, Morgan 3)
STEALS: N 3 (Garrett 2); I 5
BLOCKED SHOTS: N 3; I 4 (Morgan 2)
TURNOVERS: N 18; I 9