Former NFL player Michael Sam speaks at NKU LGBTQ History Month event
It's been over three years since Michael Sam stood in front of his football teammates and came out to them.
Sam was entering his senior year at the University of Missouri, when the spontaneous moment occurred.
Every year, during camp, the coach would have his players stand in front of the team, The Tigers, and tell them to talk about who they are, where they're from, and a fact that no one knew about them.
"When my turn came up I just got up there and said 'My name is Michael Sam. I'm from Hitchcock, Texas. I'm a sports management major. I'm gay.'
"That was the first time in my life I've ever said I was gay," Sam said. "I hadn't planned anything and I was completely shocked afterwards. I was like, 'Did I just come out?'"
The first openly gay man drafted into the NFL and any major American sport, visited NKU Oct. 10 to deliver the 4th Annual LGBTQ History Month Keynote Address. Since his announcement, through scrutiny, criticism and unreserved admiration, he has become an icon and pioneer for the LGBTQ community.
Hosted by the LGBTQ Programs and Services, the kick-off event brought the community together and was aimed at inspiring students to be themselves and not give up on their dreams when facing struggles.
Bonnie Meyer, director of LGTBQ services said that with LGBTQ history month starting they were looking for a speaker who could reach a wide array of experiences.  
"The LGBTQ community is so supportive by our administrators, faculty, staff, alumni and students so when you have that kind of support behind you, you're able to do big things like bring speakers, like Michael Sam," Meyer said.
After Sam came out during the ESPN interview, he has felt like the true Michael Sam and felt comfortable in his skin.
From his early childhood, Sam has faced challenges and numerous harsh situations.
Sam, the 7th of 8 children, faced three tragic deaths of siblings, abuse from his other two older brothers and lived in a car with his mother.
Throughout all his struggles, Sam developed steadfast determination to make a better life for himself, identifying sports as his ticket out.
After securing a football scholarship to the University of Missouri he secured the first-team All-American and Co-SEC Defensive Player of the Year.  
Predicted to be drafted early in the 2014 NFL draft, Sam was drafted by the St. Louis Rams as the 249th of 256 players selected. He is currently an NFL free agent and last played professionally in the Canadian Football League.
In 2014, he was named one of GQ Magazine's Men of the Year, was a finalist for Sports Illustrated Sportsman of the Year and the recipient of the Arthur Ashe Courage Award at the ESPYs.
Sam has been a motivation for the NKU community to not only fight for dreams but to also be yourself, no matter the situation.
"Great things can happen when you have the courage to be yourself," Sam said. "If you know someone who is struggling, reach out to them and just talk to them. It's all about love. Love will always conquer hate."
Sam hopes to inspire students and people struggling with coming out.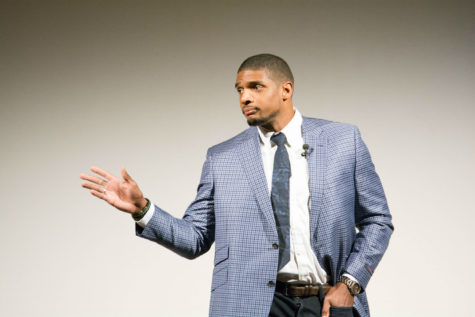 Brad Long
"I have had people tell me how I inspired them to come out to their family, to the friends, to their coworkers," Sam said. "I didn't think I did anything but there's a lot of people who don't have voices for themselves. I made a promise that I will be the voice for those. I will be the sword and I will be the shield."
Caroline Martin, a nursing sophomore major thought Sam's story was encouraging for a different range of people.
"A lot of different demographics can identify with his story. Not only, can LGBTQ, but fraternities and athletes find reassurance from this," Martin said.
One of her favorite parts was when Sam advised everyone to love the people in their life.
"His honesty about all the issues made me want to be myself more and his courage to say to love everyone no matter what their experiencing was amazing and a huge role model for everyone," Martin said.
Lekeena Gamble, an ambassador for LGBTQ services thought it was a very positive outlook for people going through the struggles of coming out.
"Especially since he is more recently graduated, so it's nice to get a fresh insight on someone more closely related to us," Gamble said. "To get advice and motivation from someone like Sam will hopefully shed light to people who criticize this community and help put a stop to negativity."