Norse Put Bobcats Away In Extras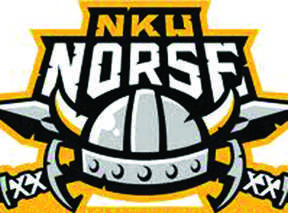 ATHENS, Ohio- The NKU baseball squad finished Wednesday's game strong, overcoming the Ohio Bobcats late rally at Bob Wren Stadium and beat the Bobcats 7-6 in extra innings.
Off to a scoring start, Will Hauter's RBI single, along with Ty Amann's two-run single put NKU on the board first, with three runs in the top of the first. Quint Heady was sent to first after being hit by a pitch early in the second, and after a few wild pitches, Tito Montgomery and lead-off Conor Ledger were able to cross home, extending the Norse' lead 5-0. Ohio scored their first run of the game with a solo homerun in the bottom of the second, making the contest 5-1.
Late in the third, the Bobcats post up another run, shortening NKU's lead to 5-2. On a four run, five hit inning in the bottom of the sixth, Ohio took their first and only lead of the game. It was short lived, when NKU's Mike Moffatt drew a lead-off walk in the top of the eighth. Moffatt's pinch runner, Anthony Vagnier was able to score the tying run, when Ledger hit a RBI single to right field. After a scoreless ninth inning, the contest would be sent into extra innings.
Ledger drove in the game winning run at the top of the 10
with a single to center, allowing Montgomery to cross the plate.
NKU showed only three arms on the hill the whole game, while the Bobcats threw a staff of seven relief pitchers. Kyle Colleta, who made his first start on the mound this season, retired six of the first seven batters to the plate. Charlie Jerger also tossed three scoreless innings of relief, and help set up the NKU bats for the comeback victory.
The Norse will turn around and play on Friday, where they will play their first Horizon League series of the year against Valparaiso.