Norse Can't Complete Comeback, Lose to Valpo in Extras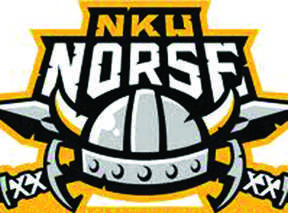 HIGHLAND HEIGHTS, Ky- The Northern Kentucky University baseball team recovered from a two-run deficit in the bottom of the ninth but fell to Valparaiso, 5-4, in 10 innings in the Horizon League opener at Bill Aker Baseball Complex Friday afternoon
After a handful of hits and a walk, Valpo took a 2-0 lead entering the bottom of the third. The advantage ended after Conor Ledger doubled to right center allowing Dominic Mercurio to score. Will Hauter then singled, allowing Ledger to cross the plate, tying the game late in the seventh.
With an ERA of 3.0, right handed reliever Nick Beard tossed four innings of scoreless baseball in today's game. Beard also had three strikeouts, two walks and left only four people on base during his four innings.
After a pair of homers by Valpo left the Norse trailing 4-2 in the bottom of the ninth, Will  Haueter and Logan Spurlin clubbed back-to-back one-out singles to left field. A Brad Bohlen groundout pushed one run across the plate, shortly followed by the game-tying run that crossed on a Quint Heady RBI single, sending the game to extra innings
With the bases loaded in the top of the 10th inning, Valparaiso's Chad Jacob used a suicide squeeze bunt to help the Crusaders take the lead once again. The Norse failed to rally back after the Norse stranded Ledger and Hickey in the bottom of the inning..
With the loss, NKU dips to 6-11 this season and 0-1 in the Horizon League while Valpo improves to 5-11 and 1-0 in League play.
After multiple changes were made to the game schedule, only one game of the scheduled doubleheader was played, pushing game two back to start at 1pm tomorrow. The series finale is set for Sunday at noon.