Baseball Update: Asalon gives team C grade through first 16 Games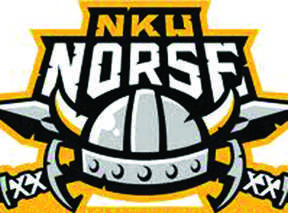 The Northern Kentucky University baseball team has finished most of the non-conference part of its schedule and will begin its first Horizon League home stand today when it faces Valparaiso University.
The Norse will come into the series 6-10 and have beat teams like Ohio University, East Tennessee State and Western Illinois along the way. However, they have lost series to Alabama St. and were swept by Troy University in the first series of the year. While the Norse are only four games under .500, head coach Todd Asalon believes the Norse are still not where they need to be as a team.
"I'm not happy or unhappy with our performance so far," Asalon said, "I'd give us about a C grade. We've beat some good teams, but sometimes we just can't put it all together."
The story of the season once again is the struggling pitching staff for NKU. The pitching staff currently has a cumulative ERA of 6.91, which ranks last among Horizon League teams. Opponents are also hitting .310 against Norse pitching on the season. The Norse have also walked 60 batters so far this season.
Asalon isn't discouraged though.
"The numbers really aren't as bad as they seem," Asalon said. "Some of that is a product of our defense. Our pitching staff is better than the numbers they have put up while our defense hasn't been as good as the numbers say right now."
Even so, Asalon knows those two areas need to improve for the Norse to be successful in the Horizon League this year.
"Pitching and defense need to improve for sure. We just can't keep giving away free bases," Asalon said.
The Norse do, however, lead the Horizon League in team average, hitting .275 as a team and have recorded 156 total hits. Asalon has been impressed with the team's offensive ability so far this season, but there is still work to be done. The Norse have struck out 149 times, 48 more times than their opponents.
"We've struck out way too many times," Asalon said. "We need to put the ball in play more and make teams field against us."
This series will mark the first time the Norse will play at home this season. The team has been to Alabama for two series so far this season, as well as a trip to Tennessee. The team has traveled an approximate 1,708 miles this season without playing a home game.
"Our kids get tired after being on a bus for 10 hours," Asalon said. "But we have to go where the sun is to play."
Relief is in sight however. Weather permitting, the Norse will get to play at home eight out of the next nine games, with the only road game in that stretch in Lexington against the University of Kentucky.
Players to Watch the Rest of the Way.
Trey Ganns: Ganns has been struggling at the plate so far this season, hitting .250 with 10 strikeouts through the first 16 games. He also leads the team in walks with 10.
"He is trying to do too much at the plate," Asalon said. "I keep trying to tell him to focus on hitting singles and the rest will come around. Teams are pitching around him and he is learning to adjust to that."
The sophomore first basemen did earn College Sports Madness recognition as Horizon League player of the week, hitting .533 with 6 RBI and 4 doubles against Western Illinois.
Ganns has pitched very well thus far in the season though, posting a 3.00 ERA with 6 strikeouts and a 2-0 record in 9 innings of work.
"He is throwing the ball really well right now. He will start on Sunday and will be a big part of the staff moving forward," Asalon said.
Will Haueter: The redshirt freshman catcher is leading the Norse in hitting so far this season, hitting .396 with a .528 slugging percentage, 7 doubles, and 21 hits. He has been Asalon's most consistent hitter and will continue to hit third or fourth in the order as long as he keeps this pace going throughout the season.
Charlie Jerger: Jerger has been one of the most impressive pitchers on the Norse staff this season, posting a 1.86 ERA out the bullpen and only allowing two total runs and 7 strikeouts through 9 innings of work.
"He has been really great for us this year," Asalon said.
Jerger also has a 2-0 record and has posted one save, second on the team to Alex Bolia who has two saves.
Aric Harris: Another cannon out of the bullpen, Harris is second on the team in strikeouts with 14 and has posted a 2.61 ERA while only walking two batters. Look for him and Jerger to come in during the final innings of the game, along with Bolia.