Not done: NKU women to play in WBI
The 2015-2016 women's basketball season will continue for Northern Kentucky.
NKU will play in the Women's Basketball Invitational (WBI) for the fourth consecutive season. The Norse will open the tournament 7 p.m. Thursday against South Carolina Upstate.
It is a matchup between former conference rivals. USC Upstate is in the Atlantic Sun Conference, the league NKU left to join the Horizon League.
Northern Kentucky swept three meetings with the Spartans last season. NKU won 77-74 at home, 83-60 on the road and 64-45 at home in the first round of the Atlantic Sun tournament.
During the three years NKU was a member of the Atlantic Sun, they were 7-0 against USC Upstate.
Northern Kentucky is the number one seed on the left side of the bracket. This should guarantee them home games until at least the final if they keep winning.
A win Thursday and the Norse would host the winner of Western Illinois and Southern Illinois either March 19 or 20. The semifinals would be either March 23 or 24, with the final March 26 or 27.
According to NKU athletics, tickets for the game will be $5 for adults, $4 for youth and are available at the ticket office at BB&T Arena or online at Ticketmaster.com. Season ticket holders can claim tickets through their My Norse Tickets account, according to NKU athletics.
Admission is free for NKU students with their All-Card.
The game will be broadcast on ESPN3.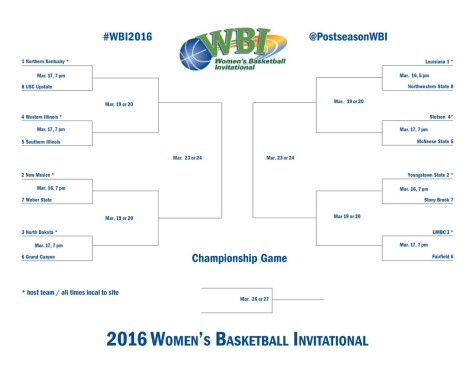 Courtesy of Women's Basketball Invitational