Students quiz athletics panel on Horizon League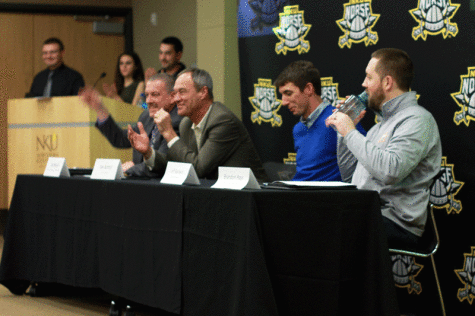 Four on-campus organizations discussed the effects of Northern Kentucky University's move to the Horizon League from the Atlantic Sun during a Tuesday open forum in the Student Union.
The four organizations were Coaches to Leaders, Norse Economics Club, Northern Kentucky Marketing Association, and the Sports Business Club.
In addition to those organizations, a panel of several prominent members from the NKU athletic program were eager to discuss and answer students' questions about the various implications of competing in the Horizon League.
Panel members included: Director of Athletics Ken Bothof, Director of Finance Daniel McIver, Director of Marketing Brandon Hays, and Director of Development Jeff Baldwin.
Before opening up the floor for questions, Bothof explained the many advantages that came with the Horizon League switch. One of them, being that the schools are significantly closer than before.
"From a geographic standpoint, the reduced travel athletes will have to make means less missed classes." Bothof explains.
He discussed how true rivalries can now be formed over time, along with more alumni engagement. With schools like Wright State only 45 miles down the road, Bothof said it gives fans a chance to attend more away games, and opponents fans a chance to attend games at the BB&T Arena.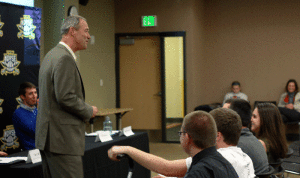 In the presentation given by McIver, he explained that participating in the A-Sun Championship last year cost the school around $100,000. Participating in the Horizon League Championship is estimated to cost around $20,000.
"As game attendance increases, so do the sales of merchandise, concessions and sponsorship opportunities," McIver said. "This gives potential to eventually increase the university's revenue as well."
Hays said the fan and student engagement has a heavy influence on the positive impacts that come with the switch. He said creating an atmosphere that makes people genuinely excited to watch their team play can be tricky.
"We want to be able to engage the general basketball fan of Northern Kentucky," Hays said. "We have a great new facility, and are trying to use it to the best we can."
He said new game day traditions such as the sounding of the gjallarhorn are one of many tactics being used to try and gain students' interest in supporting their friends in the gold and black jerseys.
When asked about the opportunities for different future opponents, Bothof explained that NKU had recently signed a four-year contract with Morehead State and Eastern Kentucky.
"Rivalries have to happen organically," added Hays. "You can't force students to have a rivalry with another school. All of the hype has to be fan-generated."
Another item addressed by Baldwin were his plans for athletes and coaches to be more visible and engaged on campus, and how it starts with getting students to attend games.
"Student organizations are the lifeblood of this campus," Hays said. "We want students to rally up their group and come check out some games."
[Editor's Note: In a previous version of this story, there were quotes that had misidentified speakers. We apologize for the error.]