Volleyball sweeps competition in Evansville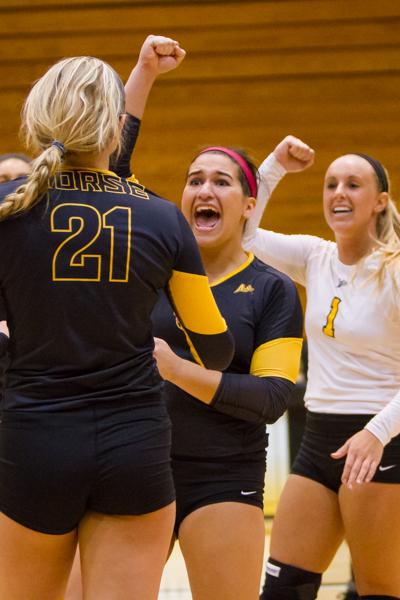 EVANSVILLE, Ind. — It was a fruitful weekend for the volleyball team in Evansville.
Northern Kentucky dropped just two sets in three matches, coming away with a weekend sweep at the Dunn Hospitality Tournament.
In the final match of the weekend against the host Purple Aces, NKU won 25-23, 25-20 and 27-25.
Tristen Simpson led the way with a season-high 14 kills. Keely Creamer had 12 kills. Mel Stewart had 20 digs to lead the Norse (5-5).
Miranda Genesis led Evansville (5-6) with 18 kills.
Earlier Saturday, NKU needed four sets to down Jackson State. The Norse won 25-13, 24-26, 25-16 and 25-17.
Haley Libs led the Norse with 15 kills. Creamer added 12 while Simpson had 11. Stewart added 14 digs while Taylor Snyder had 42 assists and nine digs.
Alexsis Ford led Jackson State with 16 kills.
NKU opened the tournament Friday, rallying from a set down to dispatch Western Illinois 23-25, 25-21, 25-22 and 25-8.
Creamer led NKU with 15 kills while Jayden Julian had 13. Snyder had a double-double with 40 assists and 11 digs. Lauren Hurley had 12 digs to lead the Norse.
The fourth set was all Norse. NKU hit at a ridiculous .652 percentage, committing just one hitting error with 16 kills.
Northern Kentucky can finally see the light at the end of the tunnel of its season-opening 12 match road trip. This weekend the Norse will be in Oxford, Ohio to take on the host Redhawks 7 p.m. Friday and IPFW 10 a.m. Saturday. NKU will finally play at Regents Hall 7 p.m. September 25 in the Horizon League opener against Valparaiso.