NKU found hidden gem in Bauml
Cole Bauml only had one offer on the table to play baseball for a Division I program. The school of interest happened to be Northern Kentucky University.
Head Coach Todd Asalon saw enough potential in the scrawny, baby-faced Canadian to warrant a scholarship but little did he know he was recruiting a player on the cusp of stardom.
Bauml was a four-sport athlete at Lake Lenore High School in Saskatchewan. He played hockey, basketball and soccer, but baseball was the sport he envisioned himself pursuing a career in. Cole's father built a batting cage on their farm where they would spend hours upon hours working on his craft.
Because there aren't a whole lot of opportunities to play college baseball in Canada, he decided to leave his hometown and move to the United States to live out his dream.
Bauml spent his first two seasons at Trinidad State Junior College in Trinidad, Colorado, just 13 miles north of the New Mexico border. As a sophomore, he posted a .370 batting average to go along with a team-high 39 runs batted in for the Trojans. Asalon's friendship with Trinidad Head Coach Matthew Torrez worked to NKU's advantage, as he found out about Bauml through Torrez, and paid a visit to watch him play.
"When I first saw him I thought he was really athletic, kind of long and gangly," Asalon said of Bauml. "I knew once he got into the weight room, he would really develop, which he did."
Asalon was also impressed with the way he swung the bat, and was hoping NKU would be the only school to discover Bauml's talent.
"I was talking to a few schools, but NKU was the only Division I school that showed interest in me," Bauml said.
That was the main factor in Bauml's decision to commit to NKU, he wanted to compete at the highest level possible, and was given the opportunity to do so.
Bauml contributed right away in his first season in a Norse uniform. He mashed seven home runs and drove in 38 runs, while his .567 slugging percentage was top on the team. He ended 2014 on a 10-game hitting streak, hitting an even .500 during that span. Cole earned second team All-Atlantic Sun Conference honors and was named to the Canadian Baseball Network All-Canadian College Team.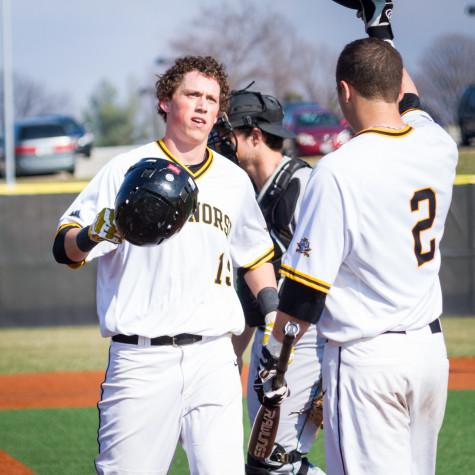 Bauml has picked up right where he left off in 2014, going 6-for-11 from the plate with five extra-base hits and three runs batted in a three-game series against Campbell to start the 2015 campaign. He was tabbed the Atlantic Sun Conference Player of the Week for his performance, becoming the first-ever NKU baseball player to achieve the award.
Bauml hasn't cooled off since then, as he leads the team in every single offensive category. Batting average, on base percentage, slugging percentage, home runs, runs batted in, you name it. He's hit safely in 25 of NKU's 27 games, and has collected 13 multi-hit games. Currently, Bauml leads the nation in doubles with 24 this season and ranks fourth in slugging percentage at .762.
Despite the historic senior season he's putting together, all Bauml really cares about is one stat in particular: wins.
"Stats are nice and everything, but it's all about going out there and helping the team win," Bauml said.
Whether it be knocking the cover off the ball atop the lineup or tracking down fly balls in the outfield, Bauml has certainly done all he can to make that happen. Asalon knew Bauml possessed the tools to be a solid all-around player, but admits he had no idea Bauml would develop into one of the better hitters in college baseball.
"I didn't see all of this coming," Asalon said. "If a pitcher makes a mistake, he doesn't miss it. Just ask the University of Kentucky."
Asalon was referring to Bauml's home run against UK's Kyle Cody, who is rated by Baseball America as one of the top pitching prospects in the upcoming Major League Baseball draft. Velocity doesn't faze Bauml. Cody found that out the hard way when he left a 98 mph fastball right in Bauml's wheelhouse, which was promptly launched over the scoreboard in left-centerfield.
It's moments like those that have caught the attention of professional scouts across the country. Bauml has gone from unknown to well known, and Asalon has no doubts that he's good enough to get drafted and take his game to the next level.
"He'll definitely be drafted in June," Asalon said. "Probably around the tenth to fifteenth round."
If that ends up happening, it will be back-to-back years in which a Canadian-born player from NKU gets drafted by a big league team. The Boston Red Sox selected Norse catcher Jordan Procyshen in the 14th round last year.
UPDATE: Bauml is currently scheduled to miss the next two to three weeks with a broken thumb after being hit by a pitch in Saturday's loss to Kennesaw State.