Women's basketball face hard loss against Ohio University
NKU women's basketball team took on Ohio University Tuesday night taking a devastating loss to the Bobcats, 77-38.
The Bobcats started out strong against the Norse going on a 13-2 run to start the game. After three straight offensive rebounds, the Norse scored their first field goal of the game at the 12:15 mark of the first half.
"I think we started the game very poorly," Head Coach Dawn Plitzuweit said. "I think the first five possessions we turned it over and faced adversity and we have to learn how to battle back. Good news is it's early in the season and we have time to learn how to do that and we will do that."
After a drive-in layup by Ohio, redshirt sophomore Shar'Rae Davis responded with her own drive in layup.
At the 8:45 mark of the first half, both teams would go back to back with field goals with the Bobcats scoring two 3-pointers and NKU knocking a one 3-pointer and a long  2-point field goal.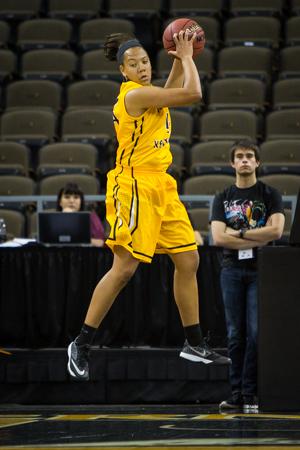 With 4:10 left in the first half, Ohio is fouled while scoring but unable to complete the play with the free throw. The score would be 29-14 in favor of Ohio.
Ohio would pick up a few more shots  to take the lead 36-14 going into the half.
Ohio came out of the locker room keeping the wheels turning, going on a 14-2 run to start the second half extending their lead to 50-16.
"I think they are an aggressive team with 5 kids who can penetrate, 5 kids that can shoot, space the floor well, and they get up and pressure you," Plitzuweit said.
NKU had a few good looks as the Ohio defense swarmed around who ever had the ball, but the Norse were able to knock down a few shots, one being a 3-pointer by freshman Faith Sanders right over the Bobcats defense. At 8:21 the score would be 61-25 in favor of the Bobcats.
After missing her first shot freshman Mikayla Terry goes back up strong to score with 1:35 left in the game.
Next up for the Norse is the Navy Classic that starts on Friday, Nov. 28, against Grand Canyon University in Annapolis, Maryland.
"We will get our kids prepared defensively to guard whatever they run and look at where we're at offensively, what style we need to play,and how we need to attack," Plitzuweit said. "We'll spend some time with film, get on the court and get back at it."