Billups expects best season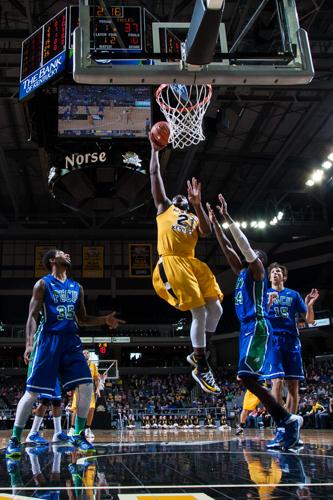 It's a cold late October morning as the men's basketball team finishes up yet another early practice session. Jalen Billups is standing on the free throw line practicing his shot. He is the last player in the gym on this particular morning. According to Billups, being the last player to leave practice is nothing new to him.
"I am feeling great, better than 100 percent," Billups said.
Last season, as a sophomore, Billups averaged 9.6 points per game and 5.2 rebounds in his first full season since his freshmen year.
"I am going to play my butt off and do what I know I can do," Billups said. "I want to surprise everybody and make it known that just because we are a newer program we are not going to back down from you."
The 6'6 center/forward posted a career high in both points and rebounding last season. His 25 points against Tulane led the Norse to victory in overtime. He has also snatched 12 rebounds in many different games throughout his career and he tied his career high against East Tennessee State.
Billups was also featured on Sportscenter's Top 10 plays last season after throwing down a put-back dunk against North Carolina who were ranked 19th in the country at the time.
Despite the numbers, the Norse only won five conference games last season, a trend the team hopes to change for the coming season.
"After last season we weren't pleased with our performance on a daily basis," Billups said. "A couple weeks ago when the preseason standings came out and they picked us fifth [in the Atlantic Sun conference], it motivated us even more to beat everybody."
The men's basketball head coach Dave Bezold said that the organization doesn't ask for much out of Billups, just as long as his numbers are consistent.
"Expectations are consistency," Bezold said. "The thing that he has to be consistent with is his performance defensively will be absolutely critical this year."
Last season was an uphill battle for Billups according to Bezold. The sophomore had to sit out nine months after having heart surgery.
"He wasn't allowed to do anything cardiovascular, so he wasn't even close to being in the shape that he needed to be in to be consistent," Bezold said.
Over the summer Billups put in the work. He cut out the junk food in his diet and implemented a lot of cardio on his way to a 30-pound weight loss.
"Last year I was 270 playing and it was hard running up and down the court, so I couldn't play as much," Billups said. "I did it so I could stay in longer and it benefits me so I can run more and won't get tired as fast."
It has been a long journey back to this point and both the coaching staff and Billups feel that it is time to have his junior year be his breakout season.
"He's a fourth year guy so it's time, "Bezold said. "This is when all of the weight training, conditioning, practices, the work he does in the gym when nobody is watching, pays off your last two years."
The season kicks off on Friday, Nov. 14 at Wisconsin, one of the toughest games on the Norse schedule this year. Billups feels confident heading into every game and knows that NKU has a shot to win against any opponent.
"He's had his best fall since he has been at NKU," Assistant Coach Kevin Schappell said. "He had a great preseason, he's starting to become more consistent as practice has gone on."
Billups has this coming season and next to take his career to the next level and he said that by season's end he wants to be recognized as player of the year. As far as future goals are concerned, Billups also said reaching the NBA is a goal he would like to accomplish. And yes, the beard is staying all season long.
"I'm just going to play my butt off and surprise them. I know they can't guard me so I am ready for that.