McDonald's lone goal enough for NKU
Despite being a defensive match for most of the night, Cian McDonald and the NKU men's soccer team proved to be too much for Eastern Illinois, defeating the Panthers 1-0 on a chilly Wednesday night at the NKU Soccer Stadium.
McDonald, a senior midfielder, scored the lone goal in the 62nd minute, a header over Panther goalkeeper Mike Novotney. The goal, McDonald's fifth of the season, was assisted by freshman forward Diego Martinez.
NKU nearly scored a second goal in the 89th minute, however senior forward Caleb Eastham's shot went high off the crossbar of the goal.
The closest Eastern Illinois was to scoring was in the 87th minute when Jake Brillhart's shot went wide right of NKU junior goalkeeper Toby Frohlich.
Besides the McDonald goal, both backfield defenses were strong, with NKU accumulating two saves, while Eastern Illinois saved seven shots.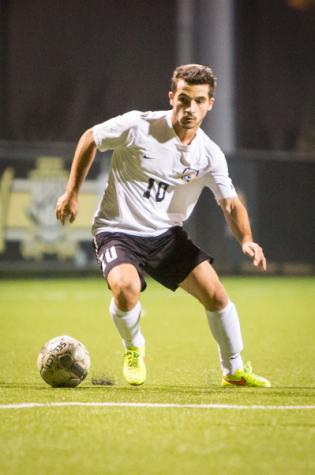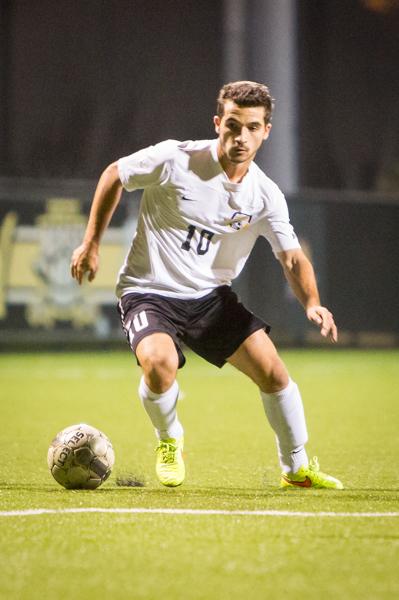 The Norse offense, though only scoring one goal, was also strong throughout the match, having eight shots on goal throughout the match, and 20 shots in total, compared to Eastern Illinois' three shots on goal and nine shots overall.
McDonald led NKU with six shots, as well as four shots on goal. Senior defender Nick McGregor finished second in shots for the Norse with four and two shots on goal.
Head coach John Basalyga was pleased with his team's performance in the win.
"They found a nice way to win a game," Basalyga said. "Right now, anytime you can pick up a W is good."
The win improved the Norse's record to 4-8-4 on the season, and 3-3-3 at home.
NKU will look for their first Atlantic Sun Conference win this Saturday night, when they face Stetson at the NKU Soccer Stadium in the final home game of the season.
Basalyga said the match against Stetson is a big game for his team, which is trying to make its first appearance in the Atlantic Sun Conference tournament.
"We're fighting for our lives and we'll see which team shows up," Basalyga said.
McDonald agreed, calling the match on Saturday the "biggest game of the year."
"Today was more of a stepping stone going into Saturday, which is the main focus," McDonald said.