Women's soccer picks up win in last home game
NKU took on Kennesaw State University in their final home game of the season Saturday night, upsetting the Owls 1-0.
The game was also part of Senior Night for the Norse, with two seniors this season, CG Bryant and Abbey Scherer.
"It was pretty crazy. I've been here for five years, it's been a rough road, but I'm glad," Bryant said. "I made it through and it was a great experience."
Scherer said along with the great experience, she's looking forward to the potential of closing her career with post-season play, the team's first chance at doing so since Scherer's freshman season.
"The first year that I came in was our last year at DII and we went out to the NCAA tournament which was really cool, and then my last two years we weren't able to make it to post season," Scherer said. "So now that we're about to qualify is just a really cool thing."
NKU Head Coach Bob Sheehan also commented on Bryant and Scherer's contributions to the team after the game.
"They've been tremendous role models throughout their, in CG's case five years and Abbey's case four years. They've been outstanding on the field, they've been outstanding off the field," Sheehan said. "So we congratulate them, we're going to miss them, and it was a really nice Senior Night for them.
The game would start off quick for KSU with a header shot going high of the goal in the second minute.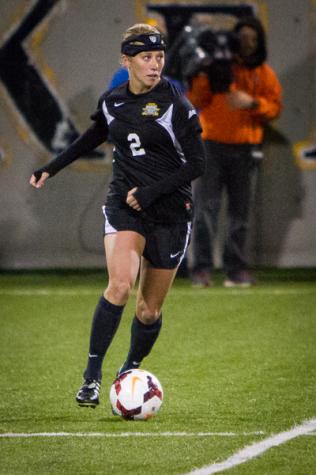 NKU wouldn't respond until the eighth minute as Macy Hamblin would take a shot of a corner kick from Sami Rutowski. Unfortunately for Hamblin the shot was blocked.
Both teams would battle evenly for the rest of the half with neither team able to score.
The second half would mimic much of the first with both teams getting many looks at the goal unable to turn it into anything.
The first and only goal of the match would come in the 73rd minute for the Norse off of a header from Jessica Frye from a corner kick by Rutowski.
"They've done really well in the last two years, and we knew it was going to be a tough match for us," Sheehan said. "I thought our players did an outstanding job defensively and a beautiful service by Sami and Jess had a goal on the corner kick. So we're thrilled with the win, it was a heartfelt win, I felt like our players definitely earned the victory."
With the win tonight NKU moves to 6-7-3 overall and 2-3-1 in the Atlantic Sun Conference.
NKU next meets the road facing Lipscomb in their last A-Sun match of the season on Friday, Oct. 24.