Hot Seat with Kelsey Laumann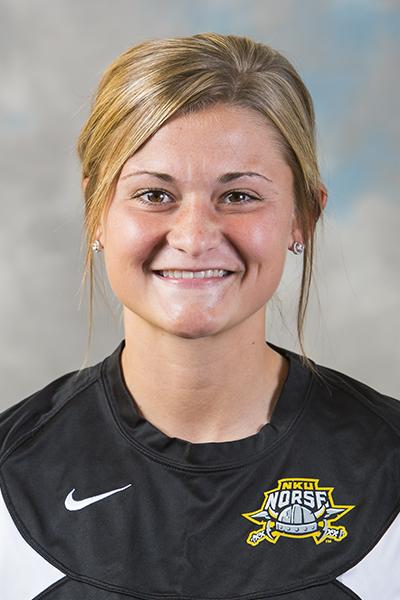 Sport: Soccer
Year: Junior
Major: Exercise Science
Kelsey Laumann holds a strong place on the Norse offense this season, but what else do you know about her?
Q: What is your favorite before game meal?
A: The subs that we've been getting.
Q: Do you have any sports related superstitions?
A: Tying my shoes more than once every game.
Q: What would be your best achievement to date?
A: I played in the All-Star game for All-Southwest in high school.
Q: What are you most looking forward to this season?
A: Being able to be up for post-season conference, and seeing how much better we are than last year.
Q: What is the #1 song played on your IPod?
A: Probably something with Dave Matthews Band.
Q: Who is your celebrity crush?
A: Man crush I'd have to say Josh Duhamel, and woman crush Jennifer Aniston.
Q: If you won the lottery, what is the first thing you would do?
A: Give back to my parents for all that they have done, and then take care of myself.
Q: What scares you the most? Why?
A: Getting hurt, for how many times I've been hurt, and snakes if I had to pick an animal.
Q: What is your favorite flavor of ice cream?
A: Chocolate Chip
Q: What is your dream vacation destination?
A: Probably somewhere warm and by a beach. And I've always thought Greece was pretty cool.
Q: What other sport do you wish you were equally as good at?
A: Basketball. I played in high school and I stopped because of soccer.
Q: Do you have a nickname?
A: Lau from my teammates and then Dood from my family, it's Doodlebug, but they changed it to Dood because it's shorter.
Q: What are your pet peeves?
A: People chewing with their mouths open.
Q: What is your favorite TV show?
A: Grey's Anatomy, definitely.
Q: What is your favorite holiday? Why?
A: Christmas, just being with family, and presents.
Q: What are your hobbies outside of soccer?
A: Hanging out with friends. Just being lazy while I can.
Q: You were recently named Atlantic Sun Player of the Week, what does that mean to you?
A: I'm very proud of myself for what I've accomplished, and for what I can be as a player.
Q: How have recent injuries on the team affected your season?
A: It's definitely been harder, because there was a bunch of forwards out, and there still are a few, so we've just had to make adjustments, and do what we can to compete and stay good.