Lightning forces early end to first game of the season
The NKU women's soccer team faced Eastern Illinois University Aug. 22 in their first ever match up.
The game started off quick for NKU with a goal coming in the third minute by redshirt junior, Kelsey Laumann.
"We had a couple of good opportunities early in the game," head coach Bob Sheehan said. "That was really a great start for us."
The next goal came for NKU in the eleventh minute by Macy Hamblin, a freshman from Fairfield, OH.
"It's really exciting," Hamblin said. "I try not to let it show, but it's really exciting. It's a new level and just being with a whole new group of girls."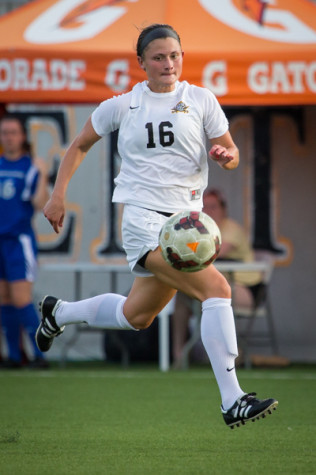 The game would continue without another goal until a handball in the 39th minute inside of the goal box, causing NKU to score off of a penalty kick shot by sophomore Sami Rutowski.
At half-time the score was 3-0, NKU.
With the second half underway, EIU seemed to have much more control in the game. Fortunately for NKU they never had any promising looks at the goal.
With a clear power struggle dominating the second half it wasn't until just past the 71st minute and Jessica Frey would score her first goal of the game with an assist from Kelsey Laumann.
Just seconds after Frey's goal the clock would be stopped at 71:36 as lightning was spotted in the area, forcing the game to come to a hault.
Regulation requires that a game not continue unless lightning has not been spotted in the last thirty minutes.
However, the lightning wouldn't cease and as the clock past 9:30 the game was officially called.
Sheehan wasn't to concerned about the turn in events.
"We can't control that," Sheehan said. "We played until the 70th minute and then it becomes an official contest, so it's out of our control."
NKU women's soccer returns to the NKU Soccer Stadium Sunday, Aug. 24 to take on Morehead State University at 1 p.m.