Mens soccer team draws against UK, shatters attendance record
NKU's men's soccer team started their pre-season with an exhibition game against the University of Kentucky on Sunday, Aug. 17 that resulted in a 0-0 draw.
NKU came out strong, holding much control the first half of the game causing most of the crowd to rally for them.
The second half of the game started slow for the Norse and ended with promising looks at the goal that unfortunately never produced anything for the team.
After all was said and done, head coach Basalyga was proud of the way his team played.
"The thing that we try to do every time we step on the field is to compete with whoever we're playing," Basalyga said. "And tonight our kids competed."
However, while no records were broken on the field, the team did amass a crowd of 1,934 people, smashing their previous record by nearly 500.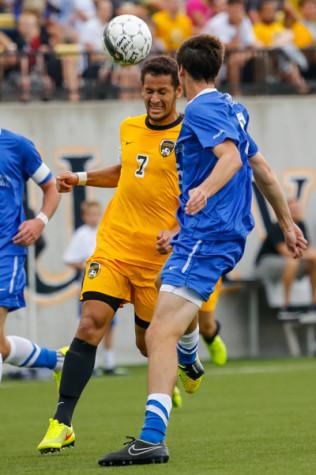 The team and administration had been promoting the game throughout the last week in hopes of breaking the record, even bringing in extra overflow seating, that turned out to be well worth it.
"That's unbelievable. It was a perfect night," Basalyga said. "That was a lot of fun watching those kids back there, they got to be themselves. The student body coming out and supporting us the night before classes, and the whole demeanor, our kids just raised up on it."
As far as future exhibition games go against UK, Basalyga says he hopes there will be more and believes that the record breaking crowd will help to bring the Wildcats back.
As for Basalyga's team, they play Belmont in Nashville, TN Aug. 24 for another exhibition game and return home for their season opener against the University of Cincinnati on Aug. 29 at 7 p.m.