NKU men's basketball falls to Buccaneers
The Norse men's basketball team fell to the East Tennessee State Buccaneers Feb. 6, at home with a final score of 60-54.
After trailing the first half, Jalen Billups and Daniel Camps both made shots in the last minute to give the Norse a 33-24 lead going into the half. Billups earned himself a double-double, finishing with 12 points 12 rebounds.
Dean Danos added 10 points and two rebounds. Cole Murray and Daniel Camps both finished with 6 points apiece.
The Norse held onto the lead for the first 11 minutes of the second half, but the Buccaneers answered back by taking the Norse's 10 point lead in three minutes.
An uneven amount of playing time was one of the factors that men's head coach Dave Bezold thinks brought down the men in the second half.
"Some of these guys haven't been playing a lot of minutes, some are out there for more minutes," Bezold said.
Bezold also remarked how the men did not get to make many trips to the free-throw line. The Norse were 9-10 at the line the first half, and made no trips in the second half.
"Zone offense is our achilles heel right now," Bezold said. "I had a fear coming into it that if they were to press us, we were in trouble."
The Bucs used zone pressure to set up fast breaks off of the eight total steals they had in the game.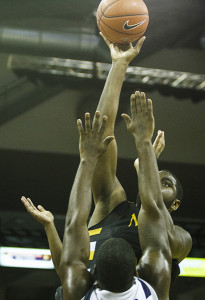 Sophomore Guards, Todd Johnson and Tyler White sat from the sidelines during tonight's "Blackout" game. White warmed up with the team, and "should be good by tomorrow," Bezold said. Johnson was in a boot the entire game, with a high ankle sprain and a dislocated finger, according to Bezold.
The team now has an 8-16 record, and will host USC Upstate on Feb. 8 at The Bank of Kentucky Center.
"They will press the heck out of us on Saturday," Bezold said. "We have to figure out who can be on the floor, and who can't be."
The Norse are now 4-8 in the Atlantic Sun Conference.