Student's goal to land in the pro's began at eight-years-old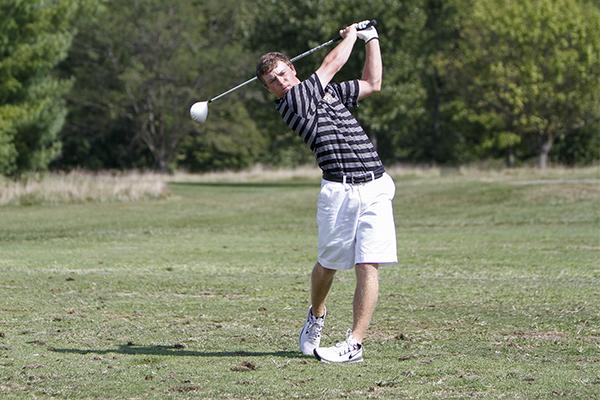 A degree is what every student is in search of when they endeavor into a college education. But for a select few, it is something much more.
Matthew Wetherill is one of those select people searching for something other than a degree. In his pursuits, Wetherill is searching for a pro contract from the Professional Golfers Association (PGA).
"Playing with the pros has always been on my mind ever since I started playing the game," Matthew Wetherill freshman golfer said. "I've wanted to go pro since I was eight years old, it is by far my biggest aspiration in life."
Beginning his tenure in Cincinnati, Oh., he played on one of the best high school teams in the state. Archbishop Moeller High School, a school that landed in the top ten spots (as a team) for the Ohio state tournament all but one year since 2002, asked Witherill to play on the varsity squad as a sophomore because of his performance throughout the fall season.
He played consistently, and emerged as one of the leaders his senior year, consistently finishing in the top two on his team.
"My senior year is when everything started clicking. I had the lowest average on the team until the end of the season," Wetherill said. "I did the best on the team at state and was 12th in the state."
Wetherill has already started his rookie season at NKU off strong, with a solid 75 average strokes per 18 hole match.
"Commitment to continuous practicing" was what Wetherill found to be the best option as far as training. Not only that, but he developed close friendships with two of his freshman teammates during the duration of pre season workouts and practices.
"Matt's one of those that is always fun spirited with everyone. He's a great teammate, and is one of the hardest workers on the team, his hard work really showed this past season," freshman business major Drew Boggs said.
Boggs was Matt's roommate throughout the season. "Being Matt's roommate was great, we motivated each other to get out and practice more and more," Boggs said.
"Matt led the team in averages this year, and secured his spot in the top five on the team. He's always supportive to us teammates, through the good and the bad parts of the season," freshman finance major, and fellow teammate Jake Brinker said.
 The past fall season wasn't what he was expecting.
"Overall our team didn't play as well as we had planned but that stuff happens sometimes and we have to look forward and move on," Wetherill said. "We can't live in the past and stress what happened last semester."
The highest place the Norse finished was eighth of 15 in the Bearcat Invitational.
"Matt has become a leader on the team as a freshman, I look for him to do great things for our team in the future," Brinker said.
Wetherill believes that this spring season is a new season for the team and he believes that the team will be ready.
"We will be focusing on playing better as a team," he said.
The team will swing its way into the new season in Jackson, Tenn. for The Grover Page Classic on March 9-11.
Wetherill believes that the team will be "over prepared" for this tournament.
"The off season has been good for us," Wetherill said. "We've been working out as a team during the weekdays trying to build our strength up for the spring season."