Coach P's journey to Atlantic Sun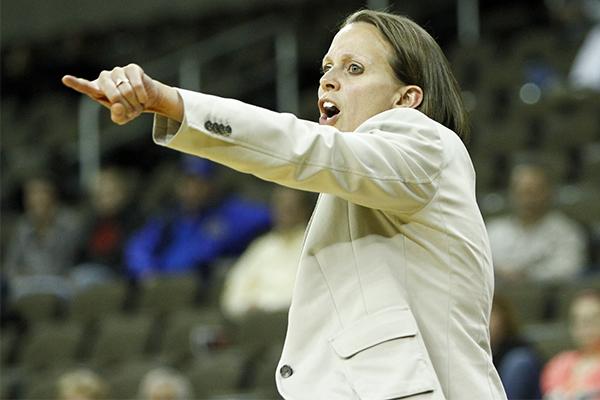 "Togetherness" is a word that is tossed around quite a bit on the women's basketball team.
"We refer to two words often in the program, the first one being toughness," Dawn Plitzuweit, women's basketball head coach said. "We use that when we refer to the defensive aspect of the game, as well as finishing plays on the offensive end. The other word we use is togetherness. It's about being a part of a team and encouraging your teammates every step of the way."
According to Karmen Graham, assistant women's coach, "Coach P" does not just care about the women's accomplishments on the court, but off as well, which makes her a great addition to our team.
"Instead of having a lucky charm, she pours everything into the team," Graham said. "Whether it be in practices or reviewing film. She gives her all to the team."
Plitzuweit has a passion and energy about her that moves her to not only care about the university, but also about the players in the program, according to David Bezold, head men's basketball coach.
"She has a tremendous work ethic," Bezold said. "You can tell the sleepless nights, you can see it and understand it. You can see her passion when she speaks about it."
Graham said the women on the team know that Plitzuweit has a goal for them.
"Her relationship with the girls is great as she's extremely personable," she said. "However, when it's time to get down to business, she does."
Coach Plitzuweit is only in her second season as the head coach for the women's basketball team, and already, has made a significant friendship with Coach 'Bez'.
"It's a great friendship because there's a level of respect," Bezold said. "I think she's a great person to begin with because she's honest and loyal to the people around her."
Coach "Bez" explains; "Coach Plitzuweit and I are constantly in and out of each others offices, bouncing ideas off one another."
Dawn's past
Before being named the head coach for NKU a little less than a year ago, "Coach P" was the assistant coach at the University of Michigan, and was the head coach for the Grand Valley State (MI), and was considered one of the top Division II coaches for Grand Valley State after receiving multiple awards.
In the early 1990's, Dawn Plitzuweit was a continuous starter for Michigan Tech's women's basketball team. Not only did she contribute to an overall record of 99-22 during her years at Michigan Tech, but she also made 4 back-to-back trips to the NCAA Division II National Tournament.
Although some time has passed since her "glory days," Plitzuweit continued her career in the sport of women's basketball by landing the head coaching job at NKU, and has led the team to an 9-8 current overall record in her second season coaching the team.
Leading NKU to Division I
Plitzuweit explains that "the dynamics of the game aren't much different from 20 years ago, but knowing how to recruit your university to young, prospective athletes," is one of the largest differences when it comes to college basketball, regardless of division or skill level.
Some may think that Division II and Division I schools are worlds apart, but Plitzuweit explains otherwise.
"Although the players might be slightly bigger (physically) at different schools, they still play the game the same way," she said.
Fellow coaches thoughts on Plitzuweit
"As the coach is a role model for the girls, the girls are a role model for Plitzuweit's own little one," Graham said. "It shows a true sense that our women's basketball team is a family, not just a team."
According to Bezold, she genuinely wants others and those around her to do well. He commented that there's "something about her personality that attracts people to her."
Contributed to by Will Kruspe & Brittani Perry.