Women's basketball coaching staff recruits four new athletes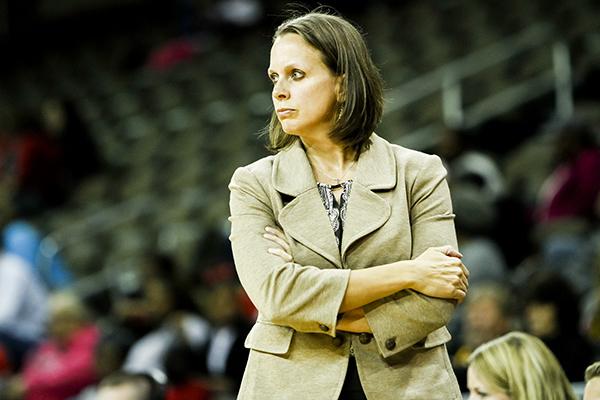 The early period collegiate basketball national signing day has officially started (Nov. 13 – Nov. 20), and on the first day the NKU women's basketball team announced that it received four letters of intent.
The coaching staff and head coach Dawn Plitzuweit announced the signing of Molly Franson, Mikayla Terry, Kasey Uetrecht and Faith Sanders.
"I love the kids we have, I love the kids that are coming in," Plitzuweit said. "I think Karmen Graham, our recruiting coordinator, has done a tremendous job with this class. We're really excited about our future."
According to Coach Plitzuweit, they're not expecting anymore recruits for the 2014 recruiting class.
Molly Franson:
Height: 6'1"
Position: Forward
Victor J. Andrew High School
Chicago, Ill.
"Molly Franson's a post-kid out of Chicago, Ill.," Plitzuweit said. "She can play with her back to the basket. She can face the basket. She can score at the basket. She can shoot from the arc and she can put it on the floor. Molly has good size and good length and will help us with another post player in our program."
"I think [the potential] is one of the things that attracted me to NKU," Franson said. "The opportunity there and the potential the program has under Coach Dawn. The coaching staff is just a great group of people. They really know how to get after it in practice, but off the court they're just awesome people and I really can't wait for them to be my coaches."
Mikayla Terry:
Height: 5'11"
Position: Guard/Forward
Lansing Christian High School
Lansing, Mich.
"She's around 5 feet 11 inches, has a very strong frame, very good hands, she's very good rebounder, and is very versatile," Plitzuweit said. "She plays point guard for her high school even though she's listed as a two guard this year. She's strong enough and big enough to even play at the post for us, but she'll mainly play on the perimeter."
Kasey Uetrecht:
Height: 6'0"
Position: Forward
Clinton Massie High School
Oregonia, Ohio.
"Kasey's probably around 6 foot, she's really a four or five kind of player who can face the basket, shoots it well, is a very good passer and understands the game very well," Plitzuweit said. "She's someone who can direct traffic from the post as well which is atypical."
"They're [the coaches] very family oriented which I love; the main one that recruited me was Karmen," Uetrecht said. "She's as friendly as can be and wasn't always concerned about the basketball standpoint, she would just wonder how my day was and just about myself aside from the basketball part of it. All of them are just amazing people and amazing coaches, but this place is amazing; I don't think any school compared to NKU for me."
Faith Sanders:
Height: 5'10"
Position: Guard/Forward
Jenkins High School
Savannah, Ga.
"Faith Sanders is a dynamic athlete and is very different than any other player in our program right now," Plitzuweit said. "She has size, length, athleticism, and in time will be a good player for us. Although our style of play is a little different than what she's been in, she'll add an up-tempo ability that we don't really have a lot of right now."