Norse fall to in-state rival Morehead in a 74-61 loss
The Norse men's basketball team fell to a 0-4 overall record on Nov. 19  in a 74-61 loss at the hands of in-state rival Morehead State University in front of 2,144 fans at The Bank of Kentucky Center.
"We got off to a really slow start," said Dave Bezold, men's basketball head coach. "Once again, I think it carried over from San Diego in our ability to make a shot."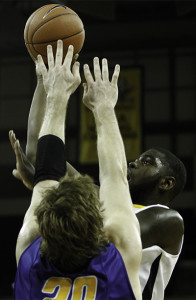 The men took an early 1-0 lead to start the game on a free throw from freshman forward Daniel Camps. However, they didn't see a lead again until 1:14 left in the first half when freshman forward Deontae Cole drove to the basket for a layup to give NKU a 31-30 lead.
The Norse went into halftime with a 33-32 lead, despite being down 16-3 earlier in the first half.
However, NKU got into foul trouble in the second half, allowing Morehead to take the lead five minutes into the second half.
Morehead took their biggest lead of the game (15 points) with 3:20 left in the game on a dunk by Angelo Warner.
NKU was plagued by 21 turnovers, including five steals by the Eagles.
The scoring was led by freshman guard Dean Danos with 13 points, including a perfect eight for eight from the free throw line, followed by sophomore center Jalen Billups with 11 points. Billups was also perfect from the free throw line, going five for five.
"I'm getting more and more confident as the season goes on," Danos said. "I'm not playing well enough to get wins though."
Bezold believes the team got a little better during the game, but there are certain things they have to improve on.
The Norse will travel to New Orleans this Saturday to take on Tulane (4-0) in the Cure UCD Classic.