Sophomore guard aspires to play basketball in NBA or overseas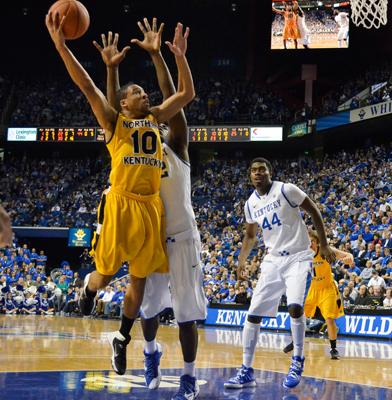 Not only did sophomore guard Tyler White score 12 points against the No. 1 ranked Kentucky Wildcats on Nov. 10, but ESPN also has him listed as one of the top 60 point guards from the class of 2012 as players to follow.
White is from the small town of Lima, Ohio, which is located between Dayton and Toledo, where his parents and sister still live.
"I miss my family, friends and my grandma's cooking," White said.
When he is not at study tables or practice, White said he enjoys hanging out with teammates. He lives on campus in the University Suites with three freshmen basketball players Deontae Cole,  Daniel Camps and Cole Murray.
"That's why I chose NKU," White said. "I played here in high school for a tournament. I played really well and in time I started getting calls from the coaches. I love the academics here, my team is like family and everyone treats me like family back."
Besides being an athlete on campus, White still considers himself a basic college student. His favorite food is hot wings and his favorite dessert is cherry cheesecake. Whenever he has downtime from basketball and academics, he and his teammates enjoy doing group things together whether it's going up to Kenwood Towne Centre or just seeing a movie together.
Whenever the team is in off-season the players like to do nothing for a few days, relax or regain their energy, but they still do strength training and study tables, according to White.
On Mondays, White and his teammates have 7 a.m. study tables before their classes, as well as on Tuesdays and Thursdays after practice.
The men's basketball team, like other NKU athletics programs, have to maintain a 2.5 GPA in order to play on the team, however, the athletic department provides team tutors to the athletes.
On gamedays, White has a routine of listening to calming music and always taking a shower right before the game.
"I don't why, but it just calms me and gets me ready," White said. "When I'm on the court there are no jokes. Game time."
Besides basketball, White enjoys other sports like football. White said he enjoys college teams like Georgia, Ohio State and Michigan State. His favorite NBA team is the Oklahoma City Thunder, just because he enjoys particular players on the team.
He also admitted to having over 35 different pairs of shoes that are perfectly clean and lined up in his dorm.
White has future plans of one day playing in the NBA or basketball overseas. If he is not able to do so, he said he would enjoy using his major, organizational leadership, for being a trainer or a coach for little kids.
White took the UK game as a great experience and felt that only good things were to come.
"This season has a lot of potential for great things," he said.