Ken Bothof developing connections in the community since first day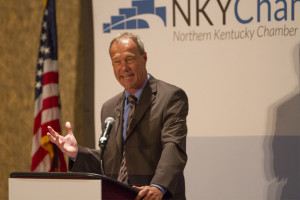 When NKU hired Ken Bothof as the school's latest athletic director in June of 2013, they knew they were acquiring someone who would work tirelessly to promote the Norse brand within the surrounding communities.
Arriving from the University of Wisconsin-Green Bay, a Division I school, Bothof has had first-hand experience forging relationships and getting involved with the off-campus community.
 "I think it has been a great hire," said Kurt Moeller, senior associate athletic director. "Bringing someone on campus that has 11 years as a Division I athletic director has been greatly beneficial to NKU."
Since hired, Bothof has worked to help the school's transition to Division I and promote the Norse athletic programs, not just on-campus, but in the surrounding communities as well. He has reached out to Northern Kentucky Chamber of Commerce members and has also appeared at several of their events.
"Hiring Ken was a natural progression to facilitate our jump to Division I," said NKU President Geoffrey Mearns. "He has a lot of experience developing relationships within the community. During his time at Wisconsin-Green Bay, he made connections with many individuals and organizations, including the Green Bay Packers, which is one of the largest and most recognizable athletic brands in the nation."
Mearns also emphasized how NKU has a history of connecting with the community and being a good steward throughout the Highland Heights area.
"Those relationships are integral," said Mearns. "It is kind of in our institutional DNA, and it is important to do that athletically as well."
In accordance with the school's history, Ken Bothof has been striving to keep NKU's tradition of community connections at the forefront of the athletic programs.
"I think it's always been important for all universities and athletic departments to connect as much as possible to the community," said Bothof. "They are the ones who are going to help you achieve a lot of your other goals. We expect and continue to expect our coaches and players to be out in the community speaking at as many functions as possible and getting involved."
He has also helped to facilitate the Go Gold Campaign, which is a community-oriented fundraiser with a goal to reach $6 million in donations within 5 years for the athletics program.
"The Go Gold campaign has been one of our biggest successes so far," Bothof said. "We will be reconvening that committee after the first of the year and will continue to emphasize the fundraiser in 2014."
He also emphasized that the upcoming men's basketball games against Purdue, Kentucky and North Carolina are important events for getting the school national recognition.
"When you are playing national games like that, it certainly puts the university and the athletic program in the minds of people that NKU is now Division I," Bothof said. "From that exposure, it helps the community recognize that we are now Division I, and helps to strengthen the brand."
Bothof believes that conference success is also key to becoming recognized, not just throughout Greater Cincinnati and Northern Kentucky, but nationally as well.
"We want to be successful in the Atlantic Sun Conference, and be more competitive year-by-year," Bothof said.
Since hiring Ken Bothof this past June, NKU has seen an expanded increase on community-driven engagements so that the Norse brand can be spread throughout Highland Heights and the surrounding areas.
"I think anytime staff, coaches, and student athletes get involved off the field, people want to support those programs that support the community," said Bothof. "The more we are out there and engaged, the more that will help us in many different ways throughout our programs. And I think we are out there, and I want us to continue to improve on that."