Crowd size appearance at Norse home games may be deceiving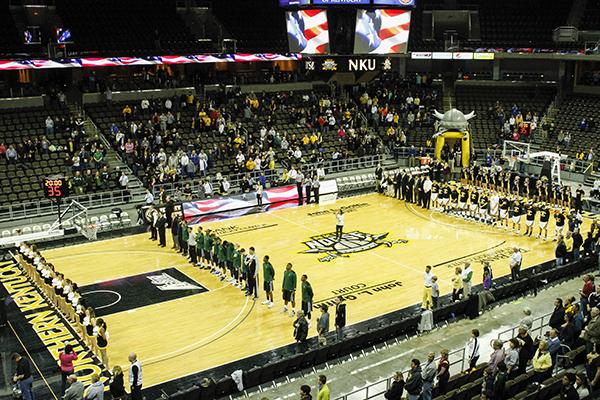 When you walk into The Bank of Kentucky Center during a basketball game, the arena may appear empty, looking as though NKU men's basketball attendance is low.
Despite appearing to have poor attendance when comparing the attendance at games to the size of the arena, NKU men's basketball had the highest average attendance in the Atlantic Sun with an average of 3,551 people in the stands per game.
However, according to the men's Head Basketball Coach Dave Bezold, the BOKC is a good size for a non-major Division I school like NKU.
The official capacity of the BOKC is 9,400 for basketball and 10,500 for concerts, due to floor seating.
Bezold said the original plan was for the BOKC to only hold about 5,000 people. However, the state government asked for the capacity to increase, in an effort to hold larger events on campus, such as concerts and graduations.
Jalen Billups, sophomore electronic media and broadcasting major and a center for the men's basketball team, doesn't believe the BOKC is too big.
"In my opinion, The Bank (of Kentucky Center) is not too big," Billups said. "It's just that we don't get enough people at our games, which makes it seem like it's too big for the school."
Bezold agrees. "If the 3,000 people in there create a great atmosphere and are excited, you don't notice," Bezold said. "Unlike most colleges, we get to grow into it."
NKU also set a school regular season attendance record in the final home game against Jacksonville, when 6,719 saw the Norse defeat the Dolphins 66-62, according to Don Owen, director of sports information.
According to Clay Tyler, junior math and science education major and president of the student spirit organization Norse Force at NKU, the BOKC is "a great size".
"There are all sorts of events held there: concerts, monster trucks, Cirque du Soleil, and basketball games," said Tyler.
Since opening in 2008, The Bank of Kentucky Center has attracted acts such as Barry Manilow, Carrie Underwood, Alan Jackson, Dane Cook, and Jeff Dunham.
So, what will it take to sell out The Bank of Kentucky Center?
"Perhaps bringing a big name team, such as Louisville or UK to play us at home," said Tyler, "but that would cost a lot of money."
Billups agrees that a big name opponent could do the trick. "Perhaps just a big time win," said Billups. "I look forward to upsetting some of the bigger schools on our schedule."
As for what students can do to support the Norse, Tyler says "just come out & cheer!"
The Norse will have the opportunity to pick up that "big time win" when they open their home schedule for the 2013-14 season against San Diego on Nov. 16 at 7:30 p.m. at The Bank of Kentucky Center.