International student athletes share an unbreakable bond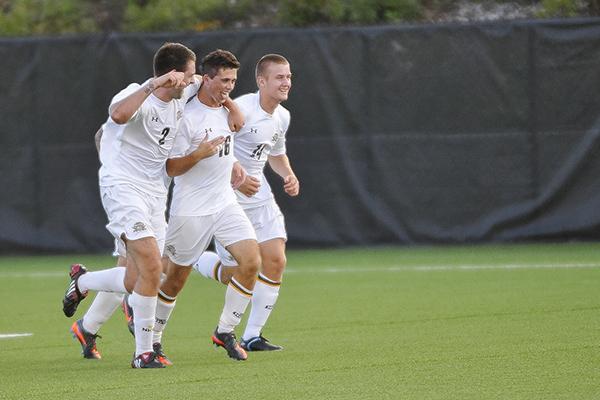 The men's soccer team holds the majority of the NKU international student athlete count, according to NKU's athletic website.
Three of the team's players come from Ireland, two of whom played together on an Ireland soccer club team for four years, Ian O'Reilly and Cian McDonald. The two played at Shelbourne Football Club in Ireland.
John Basalyga, men's soccer team head coach, first began to recruit the three players when recommended by a friend.
"NKU was my first choice, as I was not even considering going to college until coach Basalyga contacted me and offered me the chance to continue to play soccer and get an education," said Ian O'Reilly, a junior communications major and defender on the soccer team.
Gavin Colton, sophomore journalism major, said he chose NKU because of coach Basalyga. They connected straight away and shared the same beliefs about the game. All three athletes connected with coach Basalyga on the same level of soccer and furthering their education at the same time.
According to Basalyga, the three would play the way he'd like them to because they fit his personality and he commented that they are tough-minded and strong-willed players.
The three students currently live together and have a kitten in the Hampton Farms apartments right outside of NKU's campus. They enjoy playing video games together, hanging out with other teammates and being involved on campus.
The group said that them all being from Ireland was not the only influence in why they chose to live together. According to the trio, living together has benefited the group of athletes greatly and they look at the situation as more support in school and on the field.
"We are all in the same boat here and its like a support system. We all enjoy doing the same things and financially we all fall under the same bracket," said Colton.
Athletes have different support systems and someone to cheer them on. Family, friends and even Norse fans can be the extra support an athlete needs during a game according to Cian McDonald a midfielder, junior physical education major.
International students find support other ways and have limited time with their family.
"Yes, I miss home every now and then, but Skype helps a lot. And I get to go home for a month at Christmas every year," McDonald said. "Other lads have had their parents come visit, but it is really expensive and it's money my parents just don't really have."
McDonald, Colton and O'Reilly all agreed on the main point they miss about Ireland. They all first mentioned family and friends.
"I miss certain events I would go to, like music festivals or certain Irish sports like Gaelic and hurling," said Mcdonald. "They are quality sports to play and watch."
These sports are only played in Ireland, according to McDonald. In definition, Gaelic games are sports played in Ireland under theGaelic Athletic Association.
"I missed my 'home comforts' such as my mother's cooking, having access to a car, a lit fire when I got home and, most of all, a stocked fridge," said Colton.
Having all three of the Irish players and their heritage on the team brings heart to the team according to Colton. It also brings experience from playing on a club team which is considered a high level in Europe.
"We play with a very possessive mind in regard to the ball," said Colton. "I enjoy defending a lot but what I enjoy about playing right back and centre midfield is being a link in the team like batteries in a clock 'keeping it ticking'."