New athletic director adjusts to 'challenging and rewarding' change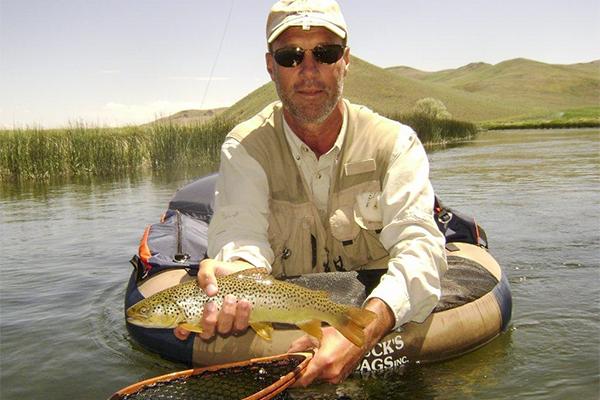 NKU's new athletic director, Ken Bothof, who played basketball and baseball in college, now loves to spend his spare time fly fishing.
Bothof's favorite hobby is fly fishing and he said it's the "most interesting thing about him. In his free time, he watches his favorite sport, baseball, both collegiately and professionally.
Bothof earned his bachelor of arts in education at Buena Vista University in Iowa. He is now married and has two children. In his relocation to Northern Kentucky, he and his family like to visit the Mount Adams area in Cincinnati.
Before working at NKU, Bothof served as the director of athletics at the University of Wisconsin-Green Bay since 2002. While working there, he helped raise $11 million in funds to renovate and expand the Phoenix Sports Center. The Green Bay women's basketball team won 11 straight Horizon League titles and five NCAA Tournament first-round games. The men's team had 20-win seasons and postseason appearances in 2009-10. In men's soccer, volleyball and softball made their first trip to the NCAA Division I Tournament.
"It had to take something special to get me away from Green Bay," Bothof said. "NKU was certainly a place I saw as special…. Green Bay was 6,000 and NKU is around 16,000 students and I like that size better for D-I athletics…. The message President Vortruba and President Mearns were giving about moving the university forward with support for D-I athletics made it very appealing."
According to Bothof, he decided to pursue a career related to sports at a young age because he was heavily involved in sports growing up. Bothof was born in Worthington, Minn.
"My parents encouraged me to get involved in several different ways," Bothof said. "I saw the benefits I derived from participating — time management, discipline, mentorship from coaches and the encouragement they gave me to stay involved."
NKU's women's basketball Head Coach Dawn Plitzuweit used to work at Green Bay with Bothof for around six months. According to her, Bothof is a person of great character and integrity.
"He gets along with just about everyone he interacts with," Plitzuweit said. "He's a very easy-going individual and gets along with people higher up in the university. The coaches who work under him and the athletes who end up performing well under his guidance and leadership. The athletes have a great deal of respect for him."
Since starting in August, Bothof has been developing relationships on campus and within the local community, according to President Geoffrey Mearns.
"Something that I really liked about his temperament, he has a great experience but carries himself with both a level of modesty and humility and he has a very good sense of humor," Mearns said. "He's the type of person I'd like to be around. Not only can he do the job, he's someone I'd enjoy being with."
When Bothof came to NKU, he was undertaking a new school, a new area of the country, a new conference and a different-sized university.
"It is a big change that is both challenging and rewarding," Bothof said. "It's great in that you're meeting new people within the university, athletic department and community… You start to recognize the dreams and aspirations for this department and university. In my first 60 days here, I have tried to do that as much as possible."
Bothof said his favorite part about being an athletic director is interacting with the student athletes, because of their energy and excitement they bring to campus.
According to Mearns, Bothof has developed relationships quickly on and off campus. Mearns said Bothof does it in a way that "endears himself to the athletes, coaches and fans."
Since Mearns and Bothof were both athletes, Mearns commented on how the two would compete against each other.
"He would definitely win one-on-one in basketball," Mearns joked. "I don't know how tall he is, must be 6'3" or 6'4", so he'd have not only a height advantage but probably a quickness advantage. If I have to pick one sport to compete against him in, I hope it's not basketball or baseball. I would take him on in a 10 mile road race. I think I'd may be able to take him in that. Or maybe ping pong."