Coaches linked through prior experience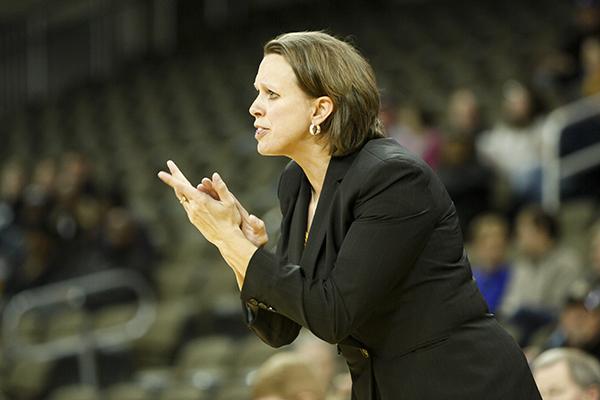 NKU's women's basketball team is entering its second year in Division I after a 15-13 overall performance last year, and many of the coaching staff are also entering their second year on staff.
The staff consists of Head Coach Dawn Plitzuweit, Assistant Coach Lynn Plett and is joined by fellow assistant coaches Karmen Graham and Courtney Boylan.
Boylan is entering her second season as an assistant coach at NKU, while being hired straight out of college by one of her assistant coaches at the University of Michigan, Dawn Plitzuweit.
"I was going to play overseas after Michigan," Boylan said. "But then Dawn got the job here, and asked me to come here with her."
Boylan started her senior year at the University of Michigan as point guard, and led her team to the NCAA tournament for the first time in 10 years. In Boylan's time at NKU though, she has nothing but good things to say.
"So far, I definitely think the community and alumni support is huge here," Boylan said. "Coming from the University of Michigan, and how much community involvement they have…, but I think it's the same if not better here. I was totally surprised by it. We just feel Northern Kentucky is such a gem, and we can't wait until people in this area find out about it."
Joining Boylan as an assistant coach is an NKU graduate, Karmen Graham. Graham has been on the staff for three years and was an All-American on the basketball team during her junior year of college. She also led NKU to the NCAA tournament in three of her four years.
Graham's coaching experience includes stops at Highlands High School, Ashland University for a year and Armstrong Atlantic State University for two years before returning to NKU.
"The goals right now are to continue to get better," Graham said "From our program standpoint I think to achieve and recruit people that play an exciting style that fans want to come out and watch. And for me personally, to eventually become a head coach."
The last assistant coach Lynn Plett is a long-time coach. Plett, entering his 2nd year as an assistant at NKU, has been in the coaching ranks for more than 30 years, including long time positions at Division II programs Lewis University and Missouri Western State University. He graduated from Tabor College in Hillsboro, Kansas.
"It's [coaching] changed an awful lot. You had to almost volunteer when I first started," Plett said. "For me, I wasn't sure what I wanted to do for quite a while. I helped a friend at the college level as an assistant and really enjoyed it. I actually coached against Karmen and Coach Dawn, so that's how we knew each other and we kept in touch."
According to Plett, he's really enjoying his role and he hopes to be a positive force to help the team.
"The goals I have are, number one, to be a positive force, to help our girls and particularly help Coach Plitzuweit as much as I can," Plett said. "I just want to help her be successful, which in turn will make us all successful. Obviously our goals will be to win a conference tournament and go to the NCAA tournament when we're eligible."
Head Coach Dawn Plitzuweit, a graduate of Michigan Tech, played women's basketball for four years, and has quite the resume in her coaching career, with stops at the University of Wisconsin, Wisconsin Green-Bay, Grand Valley State for five years, then most recently at Michigan as an assistant coach before becoming the head coach at NKU.
"We've been really fortunate, and had a great deal of success where I've been at because we've had really great people and the pieces all fit," Plitzuweit said. "We were fortunate enough to win a National Championship at Grand Valley State in my 4th year there, and went to the Elite 8 my 3rd year there, and some coaching awards that went along with that."
So far, Plitzuweit is really enjoying her time as the head coach at NKU.
"The people are really special here. They're passionate about the university and community," Plitzuweit said. "They're great people to be around. We have a lot to offer student-athletes here, or prospective student-athletes, as far as curriculum or basketbal. We have great facilities. Bottom line is we have great people."