Junior nursing major always on the run the balancing act of studies, social and sports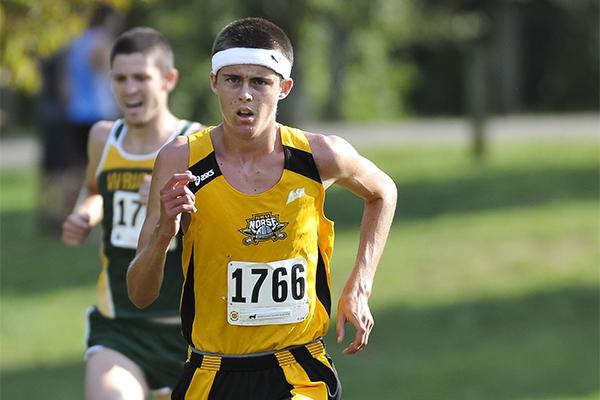 NKU cross country runner J.J. Webber is used to running. Whether it is running on the track or running to his next class, J.J. is always in a hurry.
Webber is a junior at NKU and has been one of the most successful runners in the Atlantic Sun Conference over the past two seasons. He is ranked second among all runners in the 2013 Atlantic Sun Conference preseason poll.
During Webber's college career, he has been named an All-Conference runner twice and was an All-Regional runner as a freshman. In 2011, he finished 16th at the NCAA Midwest Regional Championship 10K and sixth in the Queen City Invitational 5K. He finished first in the Greater Louisville Classic in 2012.
Webber also runs track and field at NKU, and he finished with a record time at the Atlantic Sun Indoor Championships last spring. He set school records at both the 3,000 meter and 5,000 meter events, with times of 8:34.40 and 14:50.70, respectively.
"I think the 3,000 meter and 5,000 meter were important to me," Webber said. "They were held on consecutive days and I think it was a good test for me as a runner."
Friend and cross country teammate Zac Holtkamp also believes Webber's performance was noteworthy.
"At that event, there were two seniors who were the best runners in the conference who finished first and second, and then J.J. finished third right after them. I think that illustrated the future of the conference and that was cool."
Webber said he trains rigorously for cross country and works out three days a week by himself.
"We have mandatory running four days a week," Webber said. "But the other three days, we can just work out on our own. We also lift twice a week and run around 70 miles."
NKU cross country Head Coach Steve Kruse also admires Webber's strong work ethic.
"During the offseason, I know he will always be working to stay in shape," Kruse said. "And as a coach, it is nice to never have to worry about your players slacking off."
In addition to working by himself, Webber is dedicated to making his teammates better.
"Having J.J. on our team is great, but at the same time there is also pressure for the rest of us," Holtkamp said. "Having someone of his skill level helps the rest of us push ourselves to be the best that we can be."
When he is not running cross country, Webber is busy studying because of his recent acceptance into the nursing program at NKU. He is also an avid pingpong and tennis player.
"It is definitely a challenge balancing running with school and my social life," Webber said. "When I'm not running or working out, I'm studying. And my social life is basically my team, although tennis has recently become an addictive hobby for me."
Holtkamp also described Webber on the field, as compared to off the field.
"On the field he is a tenacious competitor and off the field he is somewhat of a trash talker, but it's all in good fun with his teammates," Holtkamp said. "He's very laid back and fun to be around."
As another cross country season approaches, both Webber's coaches and teammates are expecting him to continue to develop his skills and work hard, on and off the field.
"I am expecting another successful season from J.J.," Kruse said. "I think he will pick up where he left off."