Senior runner takes school record, competitive edge before graduation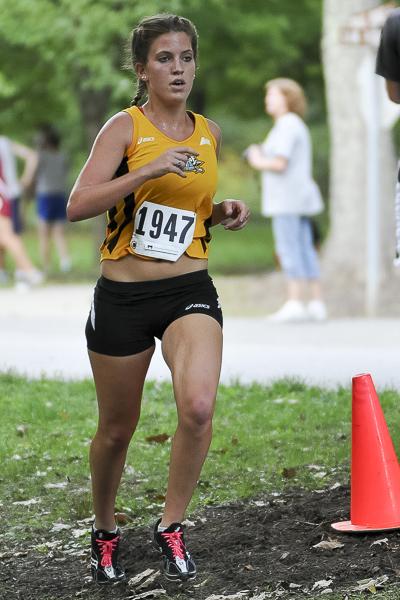 Wrapping up her fourth track season with NKU, senior Kayla Justice said being a student-athlete in college has been one of the most unique experiences she could have imagined.
Though it was a tough start four years ago, she has overcome many obstacles and even cracked a school record.
"The initial transition into college running took its toll on me," Justice said. "Freshman year, I had a stress reaction [the step before a stress fracture] in my shin, and my times and performance were well below where I would have liked to be."
Using her freshman year as a learning experience, Justice went on to perform at new heights in her sophomore season with the Norse.
With the assistance and experience of NKU cross country and track alumni, Alisha Hansman, Justice had one of her best cross country seasons in fall 2010, finishing the season with All-GLVC Honors alongside teammates Danielle Mercer and Jerrica Maddox.
"I learned I have to be smart with my training and listen to my body. I learned I am not always going to have a great race, but the not so great races, make the awesome ones that much better," Justice said.
Justice finished her final cross country season with the Norse with a season best time of 19:23 in the 5000 meter run at the A-Sun Conference Champions in late October 2012.
More recently, she broke a school record in the 3000-meter steeplechase event at the Bellarmine Classic in Louisville, Ky on April 27.
"Saturday [April 27] when I ran an 11:22, it was as if all my hard work had finally, finally paid off," Justice said. "To make it even better my entire family was at the meet, and my teammates made the whole experience one I will never forget."
Justice began running competitively in the fifth grade for her school's track team, coached by her father. She attributes much of her success throughout her running career to his coaching as well as the unyielding support of her parents.
"Whether it was a race-day text from my dad telling me that 'today was my day' or a phone call with my mom about how I was going to do great on an upcoming test or job interview, I knew my parents always had my back," Justice said. "They never put unnecessary pressure on me."
Justice's teammates have also played a huge role in her success at her alma mater, McAuley High School, as well as during her running career at NKU.
Lindsay Mumley, one of Justice's teammates, said that they will be losing a hard worker.
"She is a fierce competitor and a great teammate, screams louder than any person at a meet," Mumley said. "She just loves her team."
One thing Kayla Justice wishes to leave the team with is that they should not be afraid to take risks.
"No one starts a running career thinking it is going to be easy. Stay humble, yet always believe in yourself, because in the end that's all you have."
When asked if she would continue to run after her track season is complete: "I cannot imagine eliminating it completely from my life," Justice said. "My competitive edge will get the best of me, and I will need to race, after all, that is my favorite part of running."
Justice, along with her teammates, will be competing in the A-Sun Conference Championship meet May 11 and 12 in Jacksonville, Fla.