Students plan Tim Tebow lecture
NKU students tossed out close to 300 yellow T-shirts to the crowd just before Tim Tebow's discussion April 19 at US Bank Arena. The crowd cheered as the house lights came on and each group threw shirts to those who seemed the most eager. Local Christian rock group Seabird took down their gear while those in attendance readied themselves for the headliner.
The event titled Audible Compassion featured Tebow discussing football, family and his faith. Proceeds from the event went to various causes that Master Provisions is currently working on. Master Provisions is a nonprofit organization that helps deliver food, clothes and medical aid to those in need in America and around the world.
This event was obviously important to those attending and the various organizations involved, but it also had special significance to the 26 students from Jennifer Gardner's marketing class. They had been helping Master Provisions with this event since January as a part of the course.
"It's one thing to tell them about event planning and another when they get to participate," said Gardner, lecturer and director of the Sports Business Program at NKU.
Student Sabrina Johnson even designed the volunteer shirt that everyone wore and passed out to the crowd.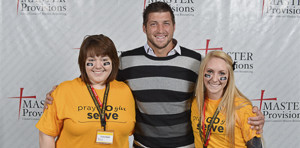 "This class is like a job, it gives you real world experience," said Paul Miles, a junior business administration major. "She's the boss and we're the employees."
"It's not structured like a class," Gardner said. "Things change. [The key] is being able to respond to those changes."
Each student helped out in different ways. Some worked on taking pictures and posting them to Facebook and Twitter, others blogged live during the event. Many helped out at information booths that were set up throughout the arena.
The booths utilized a Google document that collected data for those who want to find out more about Master Provisions, and possibly donate or volunteer their time in the future.
Tebow shared numerous stories from his childhood, his time playing football and what keeps him a passionate Christian. Anthony Munoz, former Bengal and Hall of Famer, was the emcee who directed the questions. Tebow told the crowd he had to learn to be competitive early, being the baby of five siblings, just to get food. He also discussed, at length, the massive impact his father had on his life and his Christian faith.
"I got to see that role model in front of me every day," he told the crowd. He said he saw how to treat people instead of reading about it.
The students who contributed the most to the project were allowed to take their picture with Tebow. Heidi Rink, a junior business administration major, was voted to participate in the picture by her classmates. Rink said her promotional and advertising experience was very useful.
"Event planning is more than setting up a time and place," Rink said. "There's money, entertainment and overall experience of guests and planners."
Miles said the class is great because it shows students the real-world aspect of things.
About the Contributor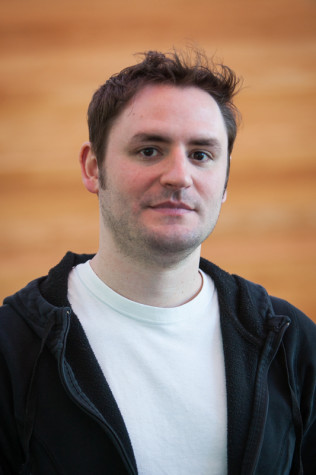 Matt Spaulding, Arts & Life Editor
Matt is a senior journalism major. Before becoming the features editor he wrote stories for the arts and life section and news covering topics from bands...