Norse softball sweeps East Tennessee State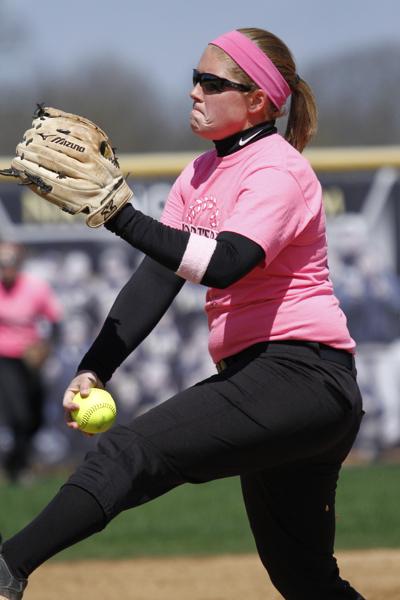 NKU's softball team hosted and swept East Tennessee State University over the weekend at Frank Ignatius Grien Softball Field.
The Norse played a doubleheader on Saturday, winning both with a final score of 3-2 in the first game and 8-5 in the second. The team wore pink neon shirts to show support for cancer.
In the first game of the doubleheader, NKU scored in the third inning with DeeDee Davis hitting an RBI bringing KC Straley in for the score.
Natalie Papi hit a double in to tie the game in the bottom of the 7th inning and Alexis VanHorn ended the game with an RBI, scoring baserunner Dee Dee Davis for the win.
In game two, East Tennessee took the lead and scored five in the 1st inning with senior infielder, Casey Horner hitting a three-run home run. NKU scored six runs in the bottom of the first inning to take the lead with VanHorn hitting a homerun.
NKU scored two more runs with Kaylin Steinmetz hitting a two-run homer in the fifth inning bringing home Michelle Carson.
"It feels awesome to get some wins," Carson said. "We came together and played the way we should be playing all the time."
NKU had another victory against East Tennessee State on Sunday afternoon with a final score of 4-0.
The Norse took the lead in the first inning with Emily Schwaeble scoring the first point for NKU with Natalie Papi advancing to third base and leading KC Straley to score at home plate.
In the fourth inning DeeDee Davis hit a two-run home run.
"It feels great to have another win," Davis said. "We played hard and it showed on the field."
NKU will host Miami (Ohio) Redhawks Tuesday, April 16 at Frank Ignatius Grien Softball Field.