Gatorade pong returned for second year
On Thursday, NKU's Student Athlete Advisory Committee hosted its second annual Gatorade pong tournament in the Regents Hall gym.
Twenty three two-person teams competed, and the double-elimination tournament was eventually won by Aaron Meyer and JK Schaffer.
The teams paid $20 to register, and the money will be going towards a charity of the Student Athlete Advisory Committee's choice, according to Laura Ricard, assistant director of compliance for the athletics department and adviser for the Student Athlete Advisory Committee.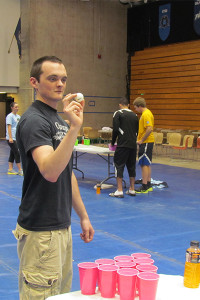 Ricard also said that there is a friendly competition between all of the different SAACs in the Atlantic Sun Conference. "It's not just an NKU thing," she said. "It's an entire conference thing."
Rachel Brown, one of the student athletes who helped to plan the event, said that the SAACs also have a community service competition. The money raised through the Gatorade pong tournament will also go to fund SAAC's community service, according to Brown.
Brown said that, in the past, NKU's SAAC has worked with Newport Intermediate School, Cincinnati Children's Hospital, and Action Ministries of Northern Kentucky. "We try to be as involved in the community as possible," said Brown.
As far as to what charity the money raised from the Gatorade pong tournament is going to go to, Brown and Ricard were unsure. Ricard said that, when NKU was Division II, they had a history of working with the Make A Wish Foundation. However, the decision will probably be made at SAAC's next meeting, next Wednesday.
About the Contributor
Mac Payton, Staff Writer
Mac Payton is a double major in journalism and electronic media and broadcasting. His career goals include becoming a broadcast journalist.