NKU Athletics and Information Technology (IT) recently collaborated with the Center for Applied Informatics (CAI) to create a mobile application for the iOS and Android programs installed on cell phones. The app is called GoNorse and is free for any user who has an app store on their phone.
A group from IT and about four students from the CAI came together to create the app, it is the same group of people who helped form the iNKU and N at NKU app. Athletics and IT formed the ideas for the project.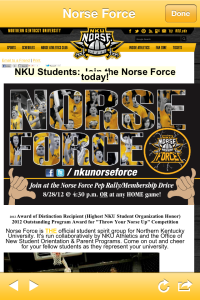 Upon opening the app, there is a simple black and white screen that has links to sports, schedules, photos, virtual tours, fan feedback and a few other options for the user to choose from.
The app was created to highlight the athletics program in its move to Division I, because not many Division I schools have a separate app for athletic programs, according to Kathy Bennett, director of research and development for IT.
By clicking on most of the links on the home screen of the app, users will be redirected to the nkunorse.com website for NKU Athletics.
"I think it's great for its purpose now," Brittany Booth, director of athletic marketing said. "We had to connect it to the website because you have to resubmit the entire application if you want to make any changes."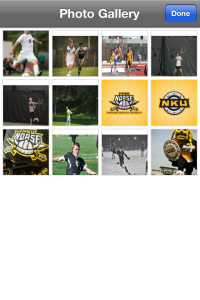 For example, if an athlete transferred schools and was no longer on NKU's roster, NKU Athletics would have to go into that roster on the app and change it and resubmit the change to iOS or Android. By connecting it to the website, NKU Athletics can make changes onto the website that users will able to see on the app.
On the other hand, the app will undergo changes since this is the first version of it and they didn't get everything accomplished that they had hoped for, according to Booth.
"I think it will absolutely help students," Levi Rosenbaum, junior computer science major and CAI worker who helped create the app, said. "If a student is planning on going to a game, we have a feature that you are able to tour different fields virtually. You can find the roster, who the opponents are for games, etc. It's useful."