Sports Business Club celebrates 10 years
April 12 event set to host speakers, networking for students and alumni
The Sports Business Club will celebrate its 10th anniversary with an event at the Bank of Kentucky Center on April 12. Students, alumni and those working in the industry will gather to meet and catch up with old acquaintances.
"We felt like it is really important to have it on campus because this is the first event where a lot of our alumni are actually coming back together," said Jennifer Gardner, director of the sports business program.
Charley Frank, executive director of the Reds Community Fund, and Karen Forgus, senior vice president of business operations for the Cincinnati Reds, will be the keynote speakers.
The Reds hire more NKU graduates than any other sports community in this area, according to Gardner.
"We thought they were a good representation to be able to talk about why they value NKU students," Gardner said.
Any current students are welcome to attend, as are any alumni. The alumni can include those working in the sports world as well as those still looking for a job in that field.
"It's a great opportunity for all of our current students to meet people who work in the profession," Gardner said. "It's who you know in sports that's going to help you get a job. This provides another avenue for these students to meet folks in the community and build relationships."
The club was originally founded by Matt Shank, now the president of Marymount University, as a way for students to build relationships with those working in the industry. Tom Gamble was the first director of the organization until Gardner took over last July. Gamble is now the CEO of In-Game Sports, which helps with promotional strategies for high school sports. Both Shank and Gamble will be at the anniversary.
As the program and the student-run Sports Business Club have evolved, students have had more exposure to the lifestyle of each sport and tours of various facilities as they build their resumes. Jalan Nored, a freshman member of the club, has met Phil and Bob Castellini, the owners of the Reds, at various events. Nored has the opportunity to help out with opening day activities this season.
"It's really good networking," said Andrea Gentile, the vice president of the Sports Business Club, "connections get you everywhere."
Gentile is a junior who has been involved in the group since her freshman year. She is currently interning at Prolanthropy, an organization that helps athletes set up charity foundations.
Gardner would like students curious about joining to know that the group is "not a huge time commitment." They try to have events that can work with various schedules and availabilities.
"Get involved," Gentile said, "especially if you want to be in the sports industry."
"My hope is that from this event the alumni continue to network with one another so that they have contacts," Gardner said.
The reception and private tours will start at 5:30 p.m., followed by the program and festivities at 7:15 p.m. Those planning to attend should RSVP at alumniconnect.nku.edu/event/sportsbusiness.
The club will also be hosting speaker Jaime DeLong, the client services manager for the Cincinnati Bengals and a graduate of the sports business program, on April 22 at noon.
About the Contributor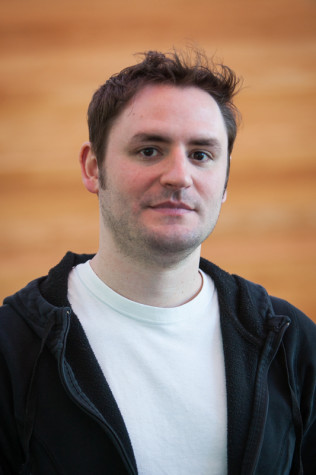 Matt Spaulding, Arts & Life Editor
Matt is a senior journalism major. Before becoming the features editor he wrote stories for the arts and life section and news covering topics from bands...