Men's golf team struggles to get first win, confident in future
NKU's transition to Division I has affected every sports team on campus. The Norse men's golf team won the Greater Valley Lakes Conference championship six times in past years. Late in the season, the team is struggling to get its first win in its first year as Division I.
With their fall season beginning on Sept. 10 the team played their first invitational of the season at the Wasioto Winds Fall Kick-Off, where the team came in third out of 14 teams. They played two more times in September coming in 11th and 12th out of 15 in the Louisville Intercollegiate and the Cobra-Puma Invitational. They had two more invitationals in October, the Bearcat and the University of Dayton. They came in fourth out of 13 teams at the Bearcat Invitational and 10th out of 18 in Dayton.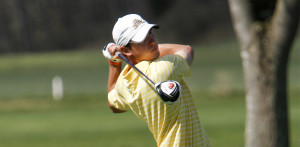 "It was a midwestern schedule so we got to play Louisville and teams like that," Daryl Landrum, head coach, said. "I think we panicked a little bit at first because it was the first part of our D-I season but it also helped us mature as a team a little bit earlier than most teams would."
The team began their spring season on March 11 where they came in third out of 14 teams at the Don Benbow Invitational and on March 18 the team placed fourth out of nine in the Bobby Nichols Intercollegiate Invitational. The team just completed the Jim Bishop Toyota Classic and placed sixth out of 15.
"When we went Division I we really didn't think anything of it," Jones Brown, senior sports business major, said. "We didn't lose anyone last year…But there were a lot of high expectations and pressure. We're in a tournament that's a lot better and the competition is more leveled out."
The team had no seniors last year and returned with their top five players again for their first Division I season: Jones Brown, Steve Rickels, Michael Schmidt, Zach Wright and Cory Dulle.
The team will qualify for the Atlantic Sun Conference championships this season if they can get a win from their next invitational.
"Honestly we are trying to get our first win this year," Brown said. "Our goal is to win the conference and show the A-Sun that we belong there."
Although golf is more of an individual sport, the team still works well together and gets along while having their own personal goals, according to Brown.
"I think our team chemistry is great," Steve Rickels, senior physics major, said. "We hang out together in and out of school. It definitely helps us on the golf course, if someone isn't playing good, we have the friendship to help them out and do it in the right way."
The team plays again on April 8 at the Grub Mart Intercollegiate Invitational in Jacksonville, Ala. It will be the last invitational for Northern Kentucky before the A-Sun conference championships.
"In the future I would hope that each year we would get a little bit better," Landrum said. "After our probation is over, I would like it if we could make it to the NCAA regionals for men's golf, that's our biggest goal."
About the Contributor
Brook Clifford, Sports Editor
Brook Clifford is a sophomore majoring in journalism with a minor in communication studies, who plans to graduate early in December of 2015. Brook has...