Updated: March 19, 3:15 p.m.
NKU President Geoffrey Mearns announced March 18 that Athletic Director Scott Eaton has been terminated from his position for ethical violations. Eaton was suspended on March 12 and an investigation was conducted, leading Mearns to terminate him, according to a letter sent to the Board of Regents.
Today Mearns confirmed that there is "no evidence of conduct that would give rise to criminal charges."
At this point, Mearns said in an interview with The Northerner that he was unable to provide specific information about the misconduct because the investigation is ongoing. But he did confirm that there is no information for NCAA compliance issues. There is also no evidence of similar misconduct from other university employees, according to Mearns.
Mearns said he did not know when he would be able to release more information; the timeline depends on the Cincinnati law firm Dinsmore & Shohl's investigation.
In the letter, which was also sent to all NKU students, faculty and staff, Mearns said that Eaton failed to comply with the NKU's ethical principles and code of conduct. "His conduct did not meet his responsibility to the university and lacked fundamental integrity."
The investigation into Eaton's actions began March 8 and with the help of the law firm, Mearns received information that led him to suspend Eaton on March 12. The investigation, according to Mearns' letter, is ongoing to "determine the impact and full scope of Mr. Eaton's misconduct."
Starting with the letter and email to the NKU community, Mearns said he is working hard to be as transparent as possible, as opposed to "other institutions who have not acted with the same level of dispatch and have not been particularly forthcoming with the public."
"In my judgment, it is in the interest of the university to be honest with all of its constituents."
Gerard St. Amand will be the acting athletic director during the search for a new director. Amand recently announced his resignation from his position as vice president for university advancement.
Eaton was appointed athletic director in 2009, and has been an administrator at the university since 1998. In 2007-2008 he served as interim vice president for student affairs.
In his position as athletic director, he helped lead NKU Athletics into Division I and played a major role in launching the $6 million Go Gold campaign.
Before starting at NKU, Eaton worked as an assistant men's basketball coach at Brown University in Rhode Island. He received his master's degrees from Fitchburg State College and Springfield College. He earned a doctorate from Boston University.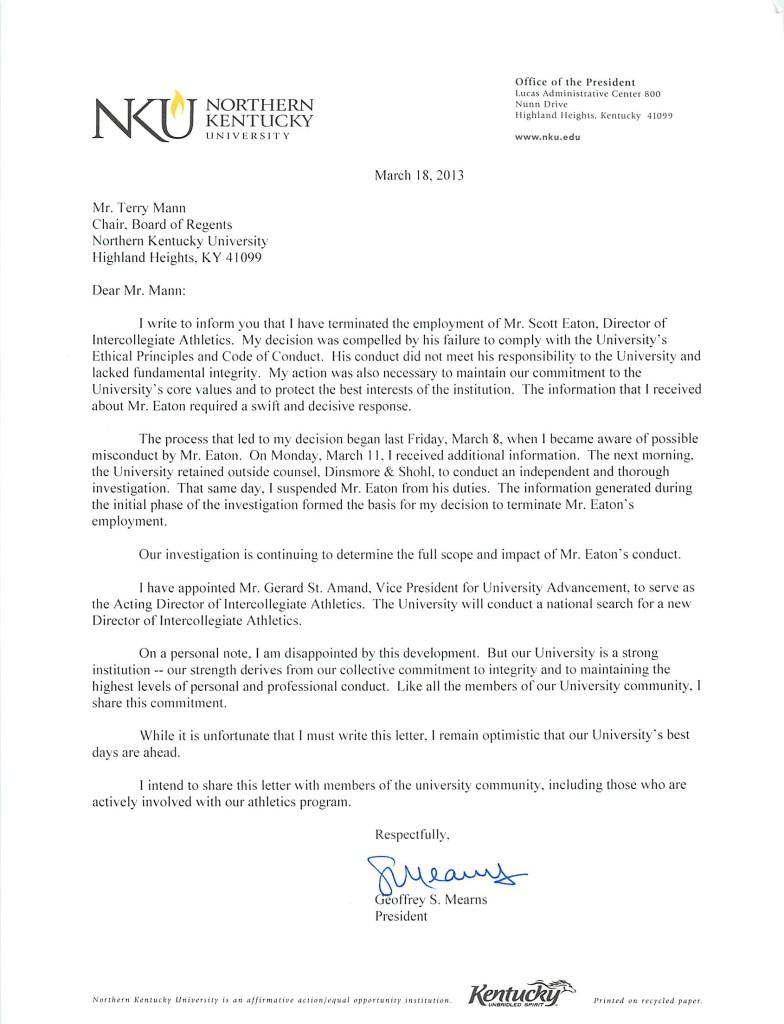 Letter to Board Chair from President Mearns