Twins embrace connection, competition
Christine and Courtney Roush could rarely play one-on-one basketball against each other when they were growing up. The twins (Christine is older by nine minutes) would get too competitive, get mad and then fight.
The limited competition at home while growing up in Louisville didn't affect their development as basketball players though. Both Christine and Courtney are now Division I basketball players at Northern Kentucky University.
It is rare to see twins reach such high levels of competition together, though some recent examples on the national stage seem to show otherwise. Basketball fans may be familiar with Marcus and Markieff Morris, who played for University of Kansas two years ago, or Andrew and Aaron Harrison who have both committed to play for University of Kentucky next year.
Christine and Courtney may not receive the same type of national attention, but they are striving to make an impact regardless of fanfare.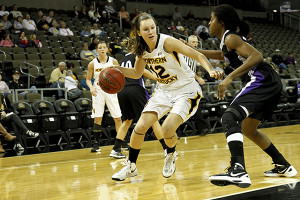 Christine, a guard, has become a mainstay in the Norse lineup, averaging nearly 30 minutes and 7.5 points per game.
Courtney, a forward, hasn't seen as much playing time. She struggled with frustration resulting from the lack of minutes, and also from seeing Christine get involved early and often.
However, she was able to see past the initial frustration and commit to helping the team any way possible.
"I realized that I could still help the team out during practice," Courtney said. "I realized that if I put in my effort in practice, I could help the team and make everybody better."
While Courtney looks past her frustration and focuses on helping her teammates improve, Christine is not quick to discuss her own success. She would rather discuss what she needs to improve upon individually, focusing on some of the finer details of her game.
"My main goal from the preseason was to be able to start for the team. I reached that goal," she said. "My main focus is having better defense, being able to get stops for the team and converting those stops into points for the team."
While both focus on the things that make the team better as a whole, they do enjoy the times when they are on the court together. Whether it means they are up big or losing big, Christine and Courtney are happy to share the court.
Being twins does not necessarily change the way things play out on the court.
Head coach Dawn Plitzuweit believes that even when the twins are on the court together, they see each other no differently than their other teammates.
"I don't think it's something they think about," she said. "Though, they have a little extra awareness for where the other is going to be."
Though they "keep it professional" when on the court together, as Christine said, the twins still enjoy some advantages that result from being so close. Having played basketball together since they were 4-years-old, they appreciate the awareness that Plitzuweit mentioned.
"We both can read each other really well," Christine said. "I'm more of a guard and she is more of a post (player), so I know where she would want the ball."
The advantages don't stop on the court. Both enjoy that they always have someone to talk to, and even mentioned an academic advantage, though it ties back to a sense of sibling rivalry.
"We're so competitive in academics and sports that we try to beat each other in school work, like on tests," Courtney said.
The challenges of being student athletes can be stressful at times, they said, but they try to unwind like anybody else when they aren't on the court or in the classroom. They both map out their study schedules and homework so that they can be sure that they will have time to relax and watch their favorite TV shows each week.
Christine and Courtney embrace being twins for many other reasons as well. They enjoy what they call "twin moments."
Plitzuweit described these moments as a world that the twins inhabit on their own, being "fun and really giddy" in a way that others can't appreciate.
The twins take comfort in being able to understand each other just as well off the court.
About the Contributor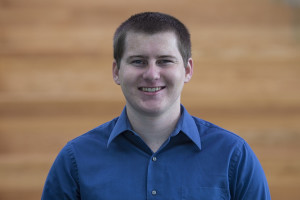 Kody Kahle, Web Editor
Kody Kahle is a senior at NKU studying computer information technology. As the web editor for The Northerner and Norse Code Radio, he maintains, updates...