NKU's women's team took a loss to Mercer University with a final score of 67-77 Monday evening at The Bank of Kentucky Center. This was the first meeting between the Norse and the Bears. Mercer is ranked third in the Atlantic Sun Conference.
The Norse are 7-0 at home when leading at the half this season, however at the half of this game the Norse were down 25-32. Northern Kentucky is now 4-5 in the conference and 11-7 overall.
"I thought our kids played really hard tonight," head coach Dawn Plitzuweit said. "When we missed some assignments tonight they made us pay. They're a very good team; we lost to kids who are a little bit better than us right now."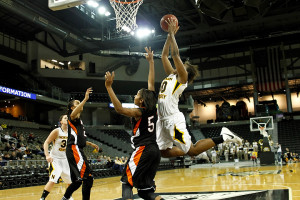 Senior forward Tiara Hopper tied her career-high of 22 points against the Bears. She also had 10 out of NKU's 34 rebounds.
"Tiara Hopper played with every ounce of energy and everything she had," Plitzuweit said. "It's good to see her back; she hasn't been playing as well since her injury till now. She played fantastic tonight and she was our kid who could score one on one."
NKU women's team has held their conference opponents to a 37.8 field goal percentage which is the second best defensively in the league. Mercer had a total of 45.6 field goal percentage in the game tonight.
"Well I think our kids really battle," Plitzuweit said. "We identify other team's strengths and try to do something other than that. We didn't get rebounds and we couldn't get the possessions for us."
Freshman guard Rianna Gayheart scored eight points and had four rebounds. Freshman guard Christine Roush had eight points and four rebounds. Senior guard Jaimie Hamlet had a season high of 14 points, three rebounds and five assists.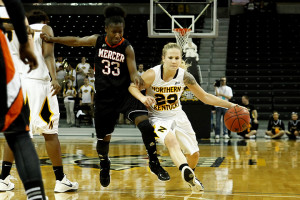 "It's good for our seniors," Plitzuweit said. "I told them at the half that it was time to make something happen, we need to make things happen for us and they did it. I thought they played very well and Hamlet did a good job fighting through."
The Norse now have a 6-2 record when playing at home.
"I think a lot of teams play better at home," Plitzuweit said. "We're one of those teams. We tend to score a little better at home. We'll either have to find a way to score more effectively or hold down teams defensively. I think we'll continue to battle."
The next women's game is on Feb. 2 at 2 p.m. against University of South Carolina Upstate. USC Upstate is ranked 4th in the conference and the Norse are ranked 5th. They're conference record is 4-5 which is the same as NKU's.