Northern Kentucky University hosted the East Tennessee State Buccaneers Monday night in a doubleheader at The Bank of Kentucky Center in Highland Heights, Ky.
The women's team (5-8) defeated the Lady Bucs (3-7) 68-55, controlling most of the game. The men's team (3-9) trailed the entire game, losing to ETSU (3-12), 49-44.
Junior guard Kayla Thacker led the women's team with 20 points, going 6-16 from the field and 4-9 from behind the arc. Sophomore forward Melody Doss finished the game with 10 points and 11 rebounds, marking her first career double-double.
Head coach Dawn Plitzuweit said it was a very gutsy performance by her team after playing four games in eight days.
"I thought we came out and played with intensity and hit some shots early in the game, which put us in a good position," Plitzuweit said. "I don't know that we scored very well in the second half, but fortunately our defense was a little bit better too."
Coming off of a victory against the University of South Carolina Upstate, Thacker said back-to-back wins gives her team a lot of confidence.
"We were tired of losing and we knew we could compete and win these games," Thacker said.
Plitzuweit said Thacker affects the game in a lot of different ways, whether it's creating possessions, reflecting passes, steals or rebounds.
"She does a lot to keep herself in the game and us in the game at the same time," Plitzuweit said.
The women's team's next game will be at home against Lipscomb University Saturday Jan. 12 at 1 p.m.
Similar to Thacker, Senior forward/guard Eshaunte "Bear" Jones also went 4-9 from behind the arc for the men's team, and led the Norse with 18 points, going 7-12 from the field. Junior guard Chad Jackson finished the game with 9 points.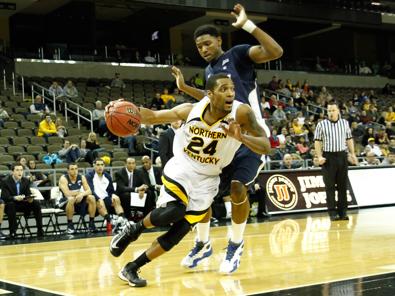 The rest of the Norse struggled offensively against the Buccaneers, shooting only 15-43 (34.9 percent) from the field and 7-26 (26.9 percent) from the 3-point line.
Men's head coach Dave Bezold said ETSU's zone defense caused NKU problems during the first half.
"Without a true post presence or threat, it's very difficult for us to do certain things or release pressure from the perimeter," Bezold said.
Bezold said the team always feels good and confident defensively, but the defense has to have help from the offense, and it has not happened.
The men's team's next match-up will be against Lipscomb University Friday Jan. 11 at 7:05 p.m.