Seeing double: Twins join men's team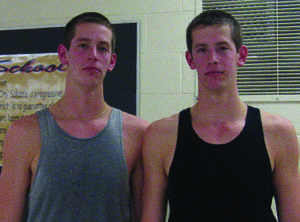 Jacob and Justin Rossi have officially committed to Northern Kentucky University's men's basketball team, giving the Norse two more big men in the post.
The Rossi twins, both 6-foot-8-inch power forwards at Franklin High School in Ohio, have been playing together for 13 years and are going to continue as teammates at NKU.
It was not an easy choice for the twins, according to Jacob, because they had offers from different colleges, including Manhattan, Belmont, Morehead State and Toledo.
The twins chose Northern Kentucky because it was the best fit for them. They said it is close to home, they like the style of play and the coaching staff.
They are also very excited about NKU's possible transition to Division I, and Jacob said the likely move was a huge part of the deciding factor for the two brothers.
Franklin coach Brian Bales has been the Rossis' coach since they have been in high school. His advice to the twins as they move on is to keep working on their fundamentals and "to make the most of the opportunity that they were blessed with."
Bales says he worked the team extremely hard, so he is confident they will succeed at the next level.
The work ethic shows, according to Jacob, who set a Franklin record for the first triple double and another record for most blocked shots (17).
Even though they play the same position, each Rossi brother brings something different to the offense.
According to Justin, he is the better three-point shooter, and Jacob is the better post player, pulling down 20 boards against Northridge.
The Rossi twins played other sports growing up, but basketball was the only one that they stuck to for a long period of time.
They played football in eighth grade and, according to Justin, they were the best players in the Coach Pitch, their town's baseball league.
Growing up, the Rossis always watched the NBA and still do to this day.
The twins hardly watch college basketball, and they don't like the NFL very much at all; but if the NBA has no season, then that means they will have to sit through two NFL seasons before they can watch basketball again.
The twins have aspired to be in the NBA since kindergarten, according to Jacob, and were unhappy about this year's recent lockout, because they would not see their favorite players compete throughout the winter.
Justin's favorite NBA player is Lamar Odom of the Los Angeles Lakers, because he likes his playing style at the power forward position.
Jacob's favorite is Vince Carter of the Phoenix Suns, because he thinks that Carter is the best dunker of all time.
The Rossis want to major in finance. Justin plans to work on Wall Street, while Jacob wants to minor in criminal justice and intends to work in the Secret Service.