The Northern Kentucky University Norse Hockey Club took on Xavier Friday, Sept. 30 at Northern Kentucky Ice Center, the team's home rink. Nearly 350 fans attended to cheer them on for the season opener.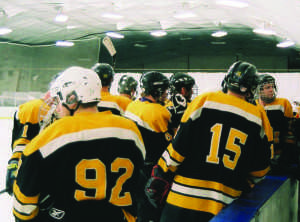 According to Donny McIntosh, vice president of the team, Friday's game resulted in a disappointing loss 6-0, but things are looking up for the season. He said a hockey camp was held in March for students interested in the program. This year the team consists of 14 returning players and six freshmen.
"Our goals for the season are to win as many games as possible, come together as a team and do the best we can at every game," McIntosh said.
McIntosh's role as vice president and director of operations is to schedule games, book hotels for road trips and coordinate practice and game times with the rinks.
"We're definitely looking to expand the sport here at Northern Kentucky University, find new players and get fans to come out and have a good time and interact with the community," McIntosh said.
The team's fan base consists largely of college-age students.
"Fraternities really support us, which is really awesome," McIntosh said. "We have some Pikes and ATOs on the team, so they come out and support us. Similar to a fraternity, we have former teammates that live all over the country that we stay in contact with."
"I get fired up when I go out there, and I hear 300 people screaming and going crazy," said Nick "Willie" Williams, the team's president. "Makes me want to go out there, play the best I can, hit people and score goals."
Williams, who agrees that the hockey team is like a brotherhood, is passionate about the sport.
"I don't know how to explain it — you get that feeling inside, kind of anxious, kind of nervous," Williams said. "There's some times where I'm so focused on what's going on out on the ice, I don't hear what's going on around me."
Hockey became a club sport at NKU in 2005. The club went to the regional tournament during the 2007-08 season. This may be the height of what the team had accomplished and McIntosh believes this team is going in the right direction.
Head coach Eric Miller graduated from Adrian College in Michigan, where he played NCAA hockey and became the second all-time leading scorer for his team. Assistant coach Kyle Devlin, a 2011 graduate of NKU and former player, is the all-time leading scorer for the Norse. With good leadership, Williams and McIntosh have high hopes for the season ahead.
The team is primarily funded by player dues, with minimal aid from the university.
NKU Norse Hockey Club will play 26 games this season — nine of them will be played at home. Admission is $5 at the door. The Norse will take on the University of Louisville at the Northern Kentucky Ice Center on Nov. 11 at 10 p.m.
They are still welcoming new members to the team. If you would like to join, contact Donny McIntosh at mcintoshdo@nku.edu.