Jessie Carmack moves with purpose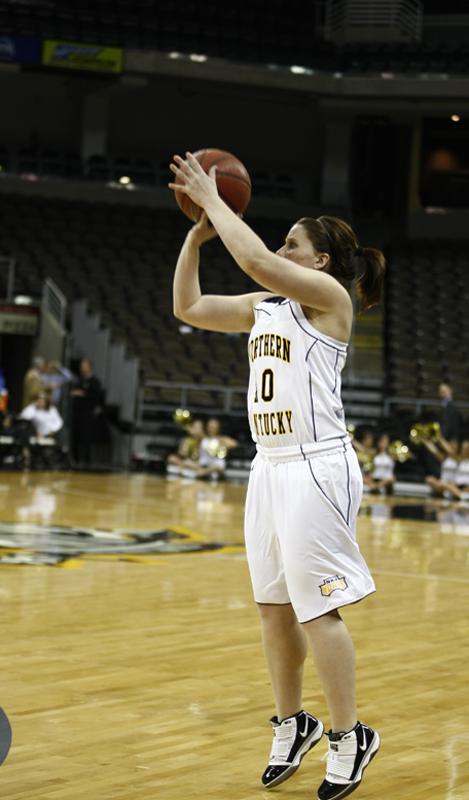 Tim Downer/Photographer
The Northern Kentucky University basketball programs are becoming known for their ability to recruit talented transfer players who can have an immediate impact on the success of the team. Redshirt junior guard Jessie Carmack is among those who have joined the Norse family and is expected to have a stellar season with the black and gold.
Carmack played for a year at West Point' Academy to begin her college basketball career. She served as a cadet, experiencing the rigors of a military lifestyle and dealing with the stress every college student knows and understands. She wasn't able to see her family and she describes the daily life at Army as 'tough to handle.'
'Playing up at West Point was a whole different level,' Carmack said. 'Not only is it Division I, but I was a cadet. I was in the Army before I was playing basketball, and that was tough to handle. I was up at 6 a.m. every morning. I was in class from 7 a.m. to 3 p.m. and had to go to practice from 3:30-7, try to do some weights and come back and to try to be in bed by 11. It was a lot to handle. As a freshman, you don't get to leave much and only time I got to really see my family was when they traveled to games. I was fortunate enough that my parents were able to make it to eight games that year.'
After her first season ended at West Point, Carmack transferred to Ohio Dominican .
'I transferred from Army because I really wasn't sure if I wanted to be in the Army, especially right now with the war in Iraq,' Carmack said. 'I wasn't ready for that step in my life. I wanted to get closer to home. I actually took a look at Northern coming out of Army but decided on Ohio Dominican because I had played for the coach before.'
Having familiarity with a coach is important to players when they are entering unknown and uncertain territory. Carmack earned significant playing time for the Panthers and developed as a leader on the squad. The Clarksville, Ohio native scored a career high 27 points against the University of Rio Grande on Feb. 13, 2008, according to the ODU Athletic Web site. Her knowledge of the game and ability to score helped ODU pilot to a 22-10 record for the 2007-2008 season.
Despite her success at ODU, Carmack wanted to attend a bigger school that would allow her to compete at the highest level of NCAA Division II basketball. She also wished to move closer to her home so her family would be able to see her play. The decision to leave ODU led her to NKU, a place with great tradition and the possibility of a national championship.
'When I was there (ODU), I decided the school wasn't quite as big as what I expected,' Carmack said. 'It's a small school up by Ohio State, and I wanted to get even closer to home. I wanted to get back to the NCAA, the Division II level and to compete for a national championship, because I know the program down here is amazing. I'm fortunate now that my parents can make it to every game, or I can go home whenever I want. I live 35 minutes away.'
The court savvy guard brings a solid shooting game to NKU, and she will provide the type of leadership that will be needed due to the loss of four starters last season. Carmack, a Sports Business major, had to be a redshirt last season with the Norse due to NCAA transfer regulations. It was grueling and sometimes painful for her to have to sit and watch, but it allowed her to learn a new system of play and learn from a talented group of seniors.
'As a redshirt, it was tough, especially in the beginning,' Carmack said. 'I wanted to be out there so bad, especially with the team we had last year '- the great leaders and the great players. I knew the system, which was hard to get used to especially for a point guard. It gave me a lot of learning time to experience it, get to know the system and be ready to go so I wasn't going to be an inexperienced player coming in. It went by a lot faster than what I thought it would. I look back now and I don't regret taking that redshirt year because I know the system now and I'm playing a lot of minutes, which is what I want to play.'
Even though it's her first real season on the floor for NKU, the expectations are high for starter Carmack to produce and have a big year.
'Jessie Carmack spent a year in the U.S. military, so I'm sure there is nothing that I'm going to do to her that is going to make it any tougher than what she had there,' said head coach Nancy Winstel. 'She leads and is a calming force on the floor. She's been out of the game for a year, but we're asking her to come in and be great. She's been doing some really good things and made some free throws there at the end of the game against Georgetown, which the Norse took home at 65-61, that helped us. Jessie and Rachel have really stepped up their leadership for us and that is what we need.'
In her first three games this season for the Norse (3-0), Carmack is averaging 8.7 points per game and is shooting 53 percent from behind the three point line. Carmack is shooting 44 percent from the floor and is averaging three rebounds per game, according to the NKU Sports Information Web site. The 5-foot-6 point guard has an appreciation for what it means to play for her hometown team.
'It is a great feeling,' Carmack said. 'The tradition and the program that Coach Winstel has put together- a NKU Norse is expected to be successful, and it's a tradition. All my life I played on teams that have been successful. This year I feel like I'm at home. I'm from the area, and it's good to play near the hometown.'
With a vision in sight, Carmack has made it clear that she will strive to improve her game to help her teammates get opportunities to make plays.
'My individual goal for this year is just to get better, keep gaining confidence in my shot and get my teammates the ball,' Carmack said. 'My biggest individual goal is probably make plays for my teammates. Our team goals are to stay undefeated at home, win the GLVC, make it to the NCAA tournament and go as far as we can. We really feel like we can do it.'