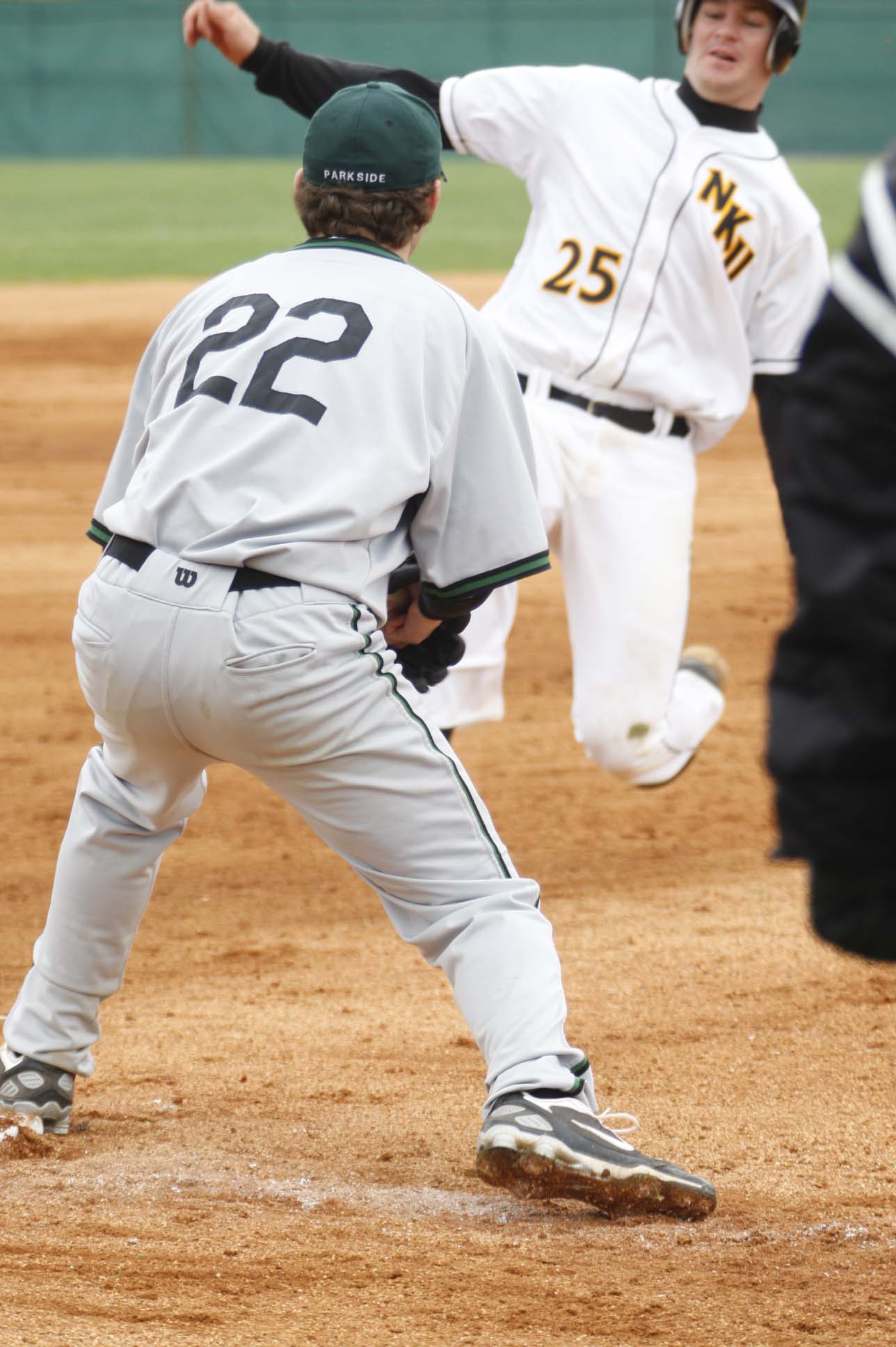 Tim Downer/Photographer
At some point during the upcoming NKU basketball season, you just might hear some of the women's basketball players calling a teammate Ging.
'We use the nickname Ging for Kelsey Simpson because she is a redhead,' said Kendra Caldwell, a junior center on the women's basketball team. 'We've called her that so much that Coach Winstel is starting to call her that too.'
It isn't that uncommon for a player to be given a nickname based on his physical looks.
Take in a baseball game at NKU's Bill Aker Baseball Complex at Friendship Field this spring and you will hear, 'Get a hit you Big Dumb Animal.'
Sound offensive? It isn't taken that way by the person that is being commended to get a hit.
Standing at 6-foot-6-inches tall, McDole is the tallest player on the team and one of the best hitters as well.
'Brian Erie came up with that nickname for some reason,' said senior outfielder Aaron Mentz. 'I guess it is because Evan is so tall and smart too. I think Evan kind of gets a kick out of it.'
Don't let the 'Dumb' part of his nickname fool you. McDole earned a spot on the ESPN the Magazine's Academic All-America team following the 2009 season, according to the NKU Athletics Web site. At the conclusion of the 2009 spring semester, McDole, an accounting major, compiled a 3.86 grade point average.
Some may say that guys are more creative in how they give out nicknames, but girls can be just as creative, albeit in other ways.
'Guys tend to nit pick on one attribute of event that a teammate has experienced and they will create a name off of that attribute or event,' said senior softball player Rose Broderick. 'Girls tend to keep the name of that person and make a new one off the twist of that. It's not to say that girls don't come up with some creative ones, its just that guys tend to do it more often.'
Random occasions can lead to random nicknames as with how NKU volleyball player Shelby Buschur was given the nickname of 'Shelbyville' by teammates Sarah Drennan and Kim Nemcek.
'Me and Kim were watching The Simpsons one day and heard the name of one of the towns in the show and thought of Shelby so it kind of stuck,' Drennan said.
So it seems in these few instances, no matter how a player acquires a nickname, they know that the sooner they have been given one, the sooner they have been accepted as a member of the team.