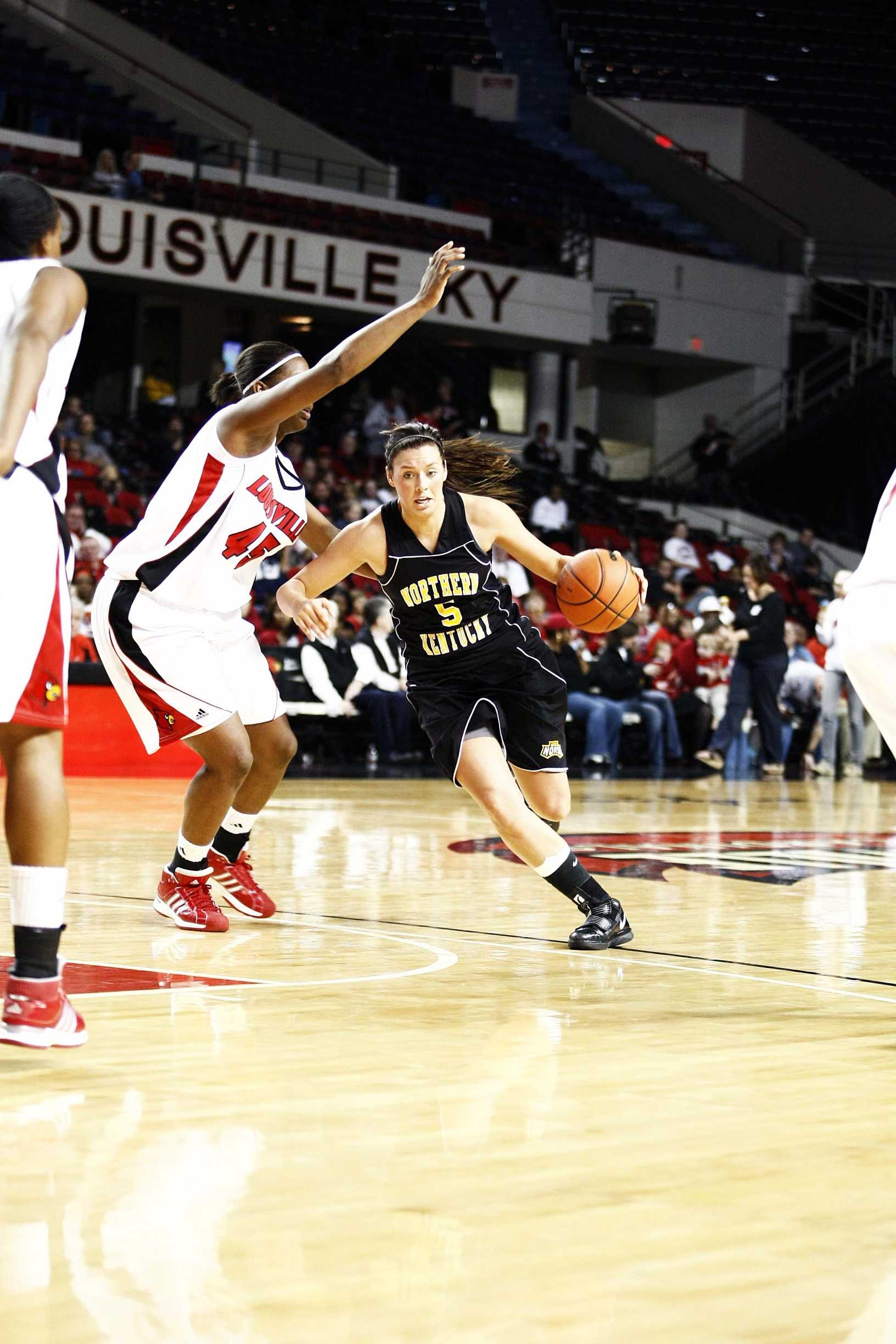 Tim Downer / Photographer
The Northern Kentucky women's basketball team will tip off their regular season Nov. 18 at 7:00 p.m. against University of Cincinnati Clermont at The Bank of Kentucky Center.
With a new starting lineup and some fresh faces, the Lady Norse are young, but eager to prove themselves as contenders in the Grand Valley Lakes Conference.
'I'm looking forward to us playing to our potential,' said senior guard, Rachel Lantry.' 'I know a lot of people think we are young and inexperienced, but we won't use those as excuses and settle.' We go hard every day in practice and always give it our all – this team has a lot of heart.'
In their only exhibition game, the Norse battled the University of Louisville back on Nov. 1.' The ladies shot 31 percent from the field and were limited to only 17 percent from behind the arc in route to their 79-54 loss against the Cardinals.' As a likely contributor to their youth, the Norse also had 20 turnovers.
'We agreed to have that exhibition very early,' said coach Nancy Winstel. 'We got some things in beforehand but probably not as much as we needed to. I learned the value of practice and how important it is to us.' When you have a young and inexperienced team, it takes time for them to learn to play as an experienced team, which only comes from practice and playing in games.'
The Norse's defense did pester the Louisville offense, forcing them into 17 turnovers of their own.' The black and gold also drew 21 fouls, four more than they committed, and connected on 15 of their 21 free throw attempts.
'We are a fighting team, we don't give up,' Lantry said.' 'Even if we are down by 30, we never stop playing.' We still have things we need to work on but that's what these exhibition games are for.' They were a chance for us to get to play at a higher competition level and play someone other than ourselves.' The good thing about this team is that we all want to win really badly and we will do anything to get there.'
Winstel said that the biggest thing for her team right now is just playing together, having success together and winning together.
'They want to get better and are embracing the challenge of playing, but they do have to compete and perform,' Winstel said.' 'We aren't taking great leaps, we're taking small steps, and we're moving forward with those steps.'
NKU faces UC Clermont, who finished 23-8 overall last year and posted an impressive 11-0 record in their Ohio Regional Campus Conference.' Their athletics Web site did not provide any additional statistics.
UC Clermont is a scrappy team who is going to play hard, according to NKU women's basketball scout Jeff Hans.
'They're going to come in to our place and come after us and try to make us turn it over,' Hans said. 'They try to press and create easy shots with their defense, but I think we're more athletic than them and will give them problems with our size. We're bigger in the post and on the perimeter.'