Cover Story: The boys are back in town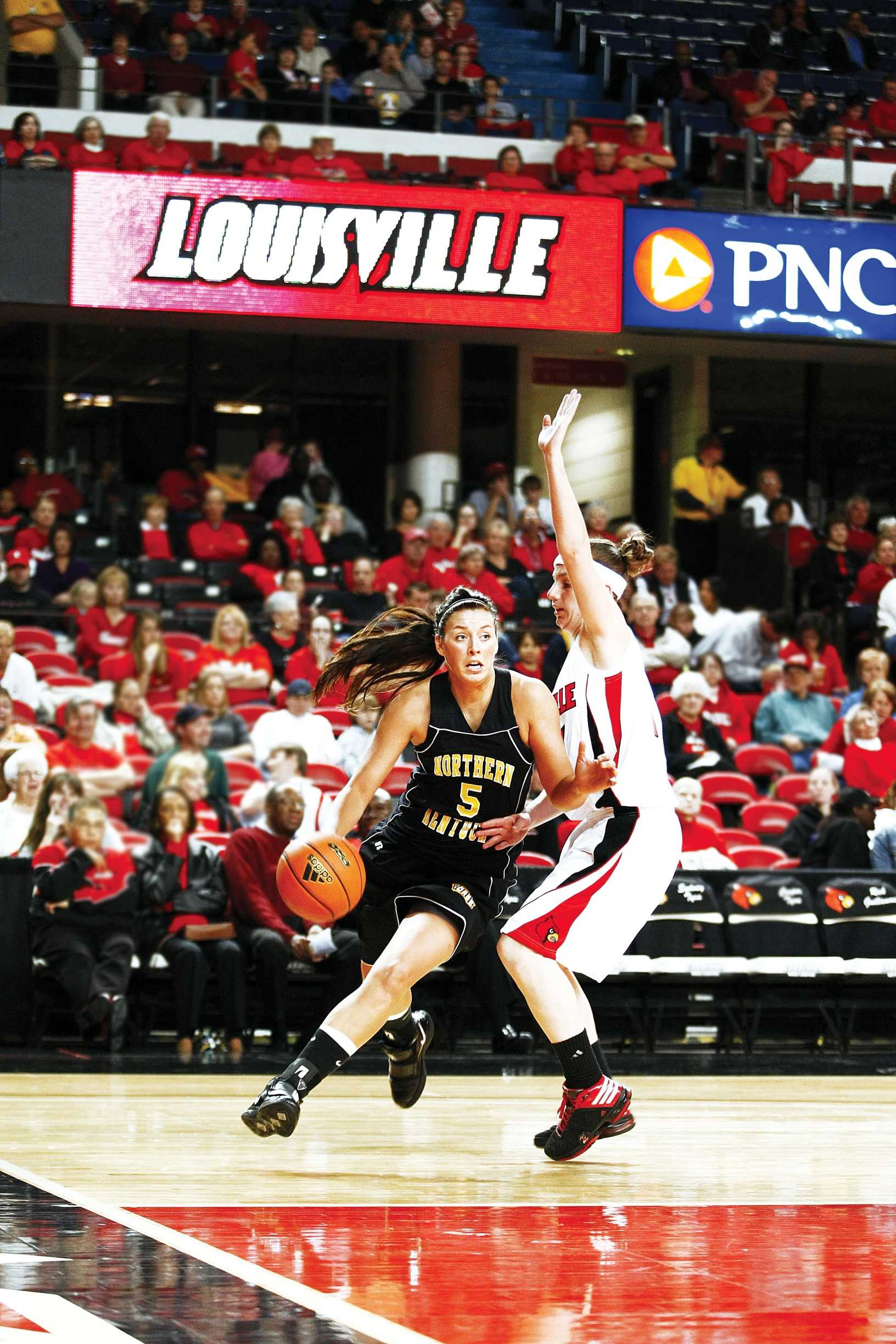 Charlotte Etherton/Photo Editor
The Northern Kentucky University men's basketball team will begin its season as the No. 20 ranked team in Division II basketball.
Head Coach Dave Bezold has a very talented group to work with as he enters his sixth season at the helm. Through five years at NKU, Bezold has established an overall record of 100-50, with a winning percentage at .667. His overall conference record is 61-34 with a winning percentage at .642. The friendly confines of Regents Hall and now, The Bank of Kentucky Center have certainly been advantageous to Bezold, as he currently owns a 59-15 record at home with a winning percentage of .797 for his career.
Last season, NKU put up 24 victories against just seven losses and a most impressive 14-4 record in a conference that put five teams in the NCAA Tournament. Bezold led the Norse to their third straight GLVC East Division Title and their first GLVC Championship since the 2002-2003 season. NKU lost in the first round of the Division II NCAA tournament, in a hard fought game that went into two overtimes against Lake Superior State University.
This season, the Norse will look to build upon their successes from 08-09.
'We've got a lot of new guys,' junior guard Dennis Gagai said. 'We had a good season last year and I thought we played really well during the regular-season, but then got upset in the first round of the regional. This year, I hope we make it deep into the season. We're going to take things one game at a time and hopefully it ends up better.'
NKU's roster will look a little different from last year's due to the edition of several Division I transfers and incoming freshman. There are eight new faces and seven returnees on the current roster, according to the NKU Sports Information Web site. The Norse lost three of their top four scorers to graduation in A'Dearon Duncan, DeAaron Williams and Leslie Malone. Together, the trio made up about 33 points per game. They also lost an excellent passer in Billy Finnell, who led the team in assists with 94 on the year.
'I think we're going to be really exciting to watch this year,' junior guard Dustin Maguire said. 'We've got some new guys in David Palmer, Chris Knight and Yan Moukoury. They're definitely going to help us. We've got some athletic players so I think we'll be really exciting to watch.'
The black and gold welcome back their leading scorer in Maguire, who was selected as a preseason All-American Candidate by The Sporting News, according to the NKU Sports Information Web site. Maguire averaged 15 points per game and led all NCAA Division II players in free-throw shooting at 93.6 percent. He shot 39.7 percent from behind the three point line as a sophomore for the Norse.
Gagai played in all 31 games for NKU last season. Gagai, is a big guard who averaged 6.6 points per game and shot 30 percent from beyond the arc. Gagai is one of those players who can catch fire at any time and when he is hot, he is hard to stop. He will provide good floor experience and solid shooting ability for the team.
Senior guard Scott Bibbins is a key returnee as he started all 31 games at the point for NKU in 08-09. Bibbins is a solid ball handler and passer which will make him fit to continue his responsibilities as the floor general during games. He was second on the team last season with 83 assists. His quickness makes him difficult to guard and he also uses his ability to defend well. Bibbins experience and knowledge of the game will have him prepared to be a leader on the team.
Sophomore guards Jon Van Hoose and Tony Rack are returning with a full college season under their belt. Van Hoose, a 6-foot-5-inch guard, is an accomplished outside shooter and Rack is an unselfish player who has great floor vision. The two players will compete for significant playing time this season.
Senior center Brad Hosler played in 20 games last season for NKU. His 6-foot-8-inch frame makes him a strong post man and will help collect rebounds. Hosler grabbed 43 boards for the Norse in 08-09.
The Norse has added eight players to its roster and five of those players transferred from other schools. Combining tradition with the development of The Bank of Kentucky Center, NKU is becoming a place where athletes want to be. Three of the newcomers transferred from Division I schools. Senior center David Palmer (University of Iowa), junior forward Yan Moukoury (University of Houston) and junior forward Chris Knight (Bowling Green State.).
Palmer is a 6-foot-9-inch post player that will be a force for the Norse inside the paint. His rock solid frame should help him against defenders when posting up underneath the basket. His presence on the floor will always make NKU a threat when close to the hoop.
Palmer is a huge edition to the black and gold and he will likely contribute immediately.
'David is our center and he is the leader of our team,' Maguire said. 'I think our offense is going to be run around him this year and it is definitely going to help the guys who shoot form the perimeter because teams are not going to be able to stretch their defense like they did last year. He is definitely going to be an impact player for us this year and we're going to expect big things out of him.'
Moukoury, is listed at 6-foot-7-inches tall and his abilities specialize in defense and rebounding, according to the NKU Sports Information Web site. His long frame will certainly help him crash the boards and cause problems for offenses. With defense being a key element in any team's success, look for Moukoury see immediate playing time.
'Yan is definitely the most athletic player on the team,' Maguire said. 'He is strong, athletic, runs the floor well and will be exciting to watch.'
Knight is also a long, 6-foot-7-inch player who will have an important role on the team. Knight, a native of Cincinnati, is scouted to be an outstanding offensive player and rebounder, according to the NKU Sports Information Web site.
'Chris is a good shooter and can do it all,' Maguire said. 'He has proven himself at the college level. I think he'll have a good year and he is unselfish and knows how to play the game of basketball.'
Junior guard Mike Hester played the previous two seasons at Union College. He averaged 9.8 points per game and recorded 127 assists for the Bulldogs last season. Hester is a very quick player that has great ball handling skills. His speed allows him to play aggressive on the defensive end of the floor and he will cause problems for opposing offenses. Hester is a brilliant passer and that ability has helped him become a leader on the floor.
Junior center Brandon Callahan (Marion, Ind.) completes the hardy list of transfers that join the Norse this season. The edition of Callahan only insures depth at the post position on the squad. He played in 22 games in the 2007-2008 season with Marion, averaging just over three points and two rebounds per game.
Freshman guards Ethan Faulkner and Josh Volkerding will provide depth in the backcourt for the Norse. The scouting report on Faulkner is that he is an exceptional point guard who understands the game and he is a guy that is going to give maximum effort every night, according to the NKU Sports Information Web site. As a senior at Elliott County High School, Faulkner averaged 16 points per game and finishing his career with more than 2,000 points. Volkerding is a solid outside shooter that made the team as a walk-on. A graduate of Harrison High School, Volkerding averaged 19.4 points per game and could contend for playing time.
Freshman forward Erik Stenger completes the 2009 freshman class for NKU. Stenger averaged 17.6 points and 7.8 rebounds through is senior campaign with Cincinnati's St. Xavier High School.
Team chemistry is
a key element to any team's success and the Norse look to continue to build its relationship as the season progresses.
'It is all about making sacrifices for the team and finding your role individually in order to help the team the most,' Maguire said. 'It will continue to be something that we work on through practice and by the time the games start, I think we should be good to go.'
The Norse will compete in two exhibition games before they start regular season play. The black and gold will battle Xavier University at 7:30p.m. on Nov. 7 at the Cintas Center in Cincinnati. For the second exhibition game, NKU will travel to Dayton to take on the Dayton Flyers at 7p.m. on Nov. 9.
The Norse will open the regular season on the road with a grueling match-up against No. 18 Grand Valley State at 3p.m. on Nov 15.