Cover Story: Court is in session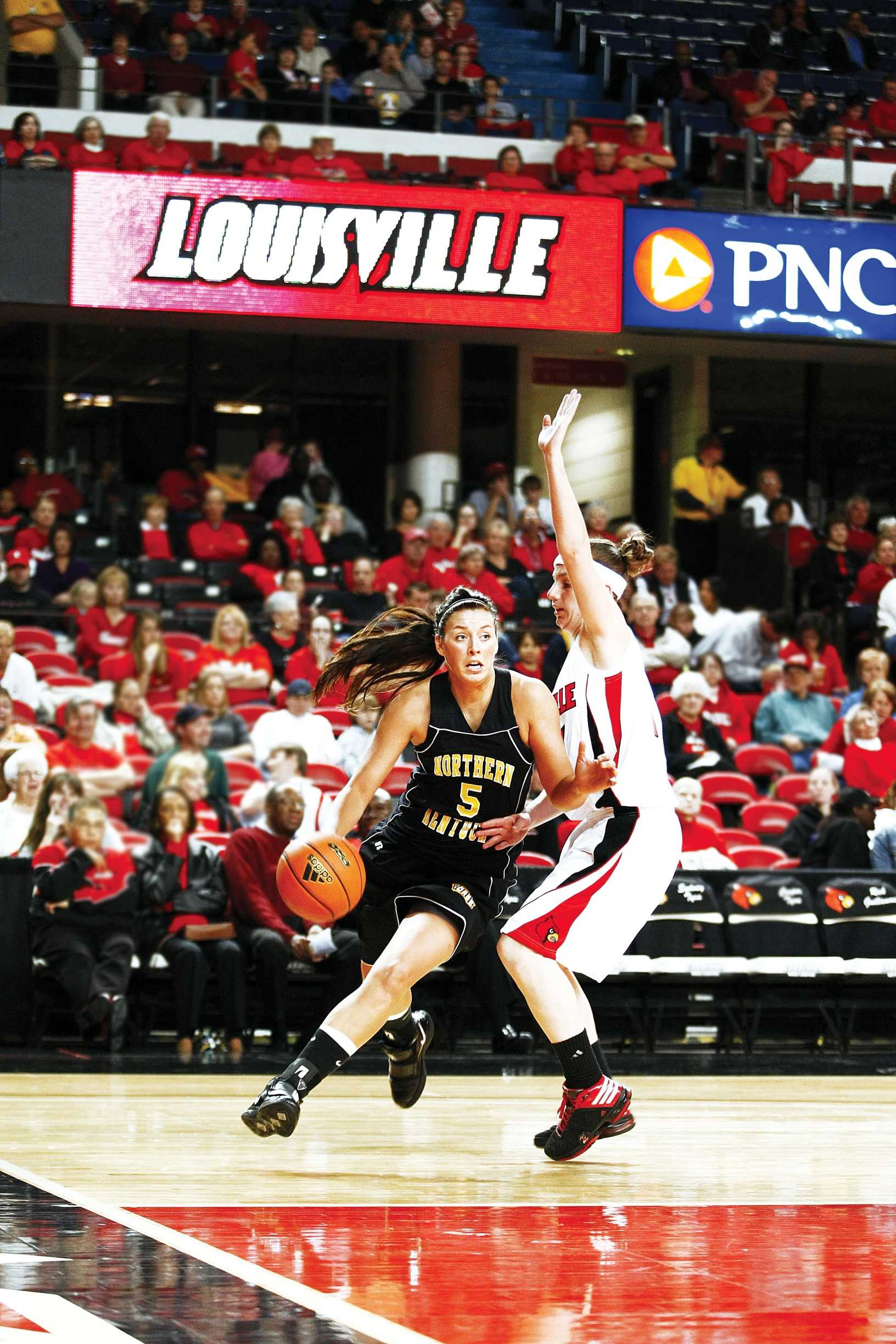 Tim Downer/Photographer
It was a disappointing end to a season, which at the beginning saw the Norse women ranked No. 1 for several weeks.
Senior Rachel Lantry says this year's team can go further and accomplish more than last year's team.
'I do not really know what to expect this year, but I do know we are capable of doing anything we set our minds to,' Lantry said.
The Norse will begin their season as the No. 18 ranked team in Division II basketball.
The Norse were voted to finish second in the Great Lakes Valley Conference East Division pre-season poll, according to the NKU Sports Information Web site.
Head Coach Nancy Winstel has a young squad that will face many challenges during the 2009-2010 season.' Winstel has established an overall record of 577-187 as she heads into her 27 season on the bench for NKU.' She has 616 career wins as a head coach, the third most in GLVC history.' Throughout her illustrious career, Winstel has coached the Norse to two national championships, five NCAA II Final Four appearances, six NCAA Elite Eight appearances and three GLVC titles.
The Norse finished with a 29-3 record last season, which helped them claim the GLVC East Division title and the GLVC tournament championship to earn a No. 1 seed in the NCAA Division II tournament.' NKU lost to Michigan Tech in the second round.
With the departure of four starters, the Norse will face many challenges early in the season.' The main challenge will be to overcome their inexperience.' The loss of all-American guard Jessie Slack will change the scoring attack for NKU this season.' Slack accounted for over 17 points per game during her senior campaign.' The Norse lost support on the defensive end of the floor with center Cassie Brennan, who swatted away more than 200 shots during her black and gold years.
There are two seniors and three juniors returning from last seasons GLVC championship team.' Lantry and senior forward Brandi Rayburn will look to be the leaders on the floor.' Rayburn averaged 10.6 points per game and led the team in rebounds with 7.1 per game.' She is a fierce rebounder and will provide strength inside the paint.' Lantry is a versatile guard with size.' At 5-foot-10, Lantry is a very solid defender and passer.' She dished out 60 assists and collected 21 steals last season, according to the NKU Sports Information Web site.' Lantry averaged four points per game in 08-09, but look for her to step into that scorer's role for 09-10.
'We are training and pushing ourselves to the limit because we do want to go far and we know we are capable of it,' Lantry said. 'We may be seen as the underdogs this year, but we have been put in that position before two years ago and we came out with a National Championship.'
' Lantry admits that adopting a leadership role can be tough.
'It is challenging at times, but like I said before, these girls are my best friends so it is not hard for me to want to be there for them and want to see them do well,' Lantry said.' 'I also look to them when I need help, which is very reassuring.'
The returning juniors that will see significant playing time is guard Jesse Carmack, guard Diondra Holliday and center Kendra Caldwell.' Caldwell is a strong post player and an aggressive rebounder.' She played in 30 games last season, posting about three points per contest.' Holliday could challenge for a starting position at point guard through her ability score off the dribble.' With solid dribbling skills, Holliday is also able to create opportunities for her teammates. Carmack sat out last season after transferring from Ohio Domincan.' The scouting report on Carmack is that she is a skilled shooter with a good knowledge of the game.' Her court savvy will help the Norse in the backcourt.
With four sophomores and four freshmen making up over 60 percent of their roster, the Norse will have to have underclassmen step into any vacant roles.
'Our freshmen are picking things up really quickly,' Lantry said.' 'It's hard coming into a new atmosphere and trying to pick up on the things we do, but they work really hard and have a lot of potential.' I think each of them are a great addition to this team and I see them doing great things for the women's basketball program.'
Sophomore forward Whitney Levering returns for her second year with the Norse as a solid rebounder and scorer.' A little over six feet tall, she can play inside or out, making her a constant threat for defenses.' Levering could contend for a starting spot this season.
Stephanie Hodges is a five-foot, ten-inch sophomore forward and is an excellent rebounder and passer with a dependable jump shot.' She moves well off screens and her ability to play three different positions makes her a key returnee for the NKU.
Sophomore guard Sadie Bowling will help provide some depth at guard and forward because she is able to play at the two or three spot on the floor.' Bowling is a good rebounder and defender.' Sophomore Casse Mogan will add depth at guard as well.' Her ability to score and pass will help NKU's backcourt.
Perhaps the most ready freshman is six-foot, two-inch forward Kelsey Simpson.' Simpson is long and versatile, posing a threat on the offensive and defensive side of the ball.' Her length cuts off passing lanes and will make opposing players second guess their shot selection, so as not to have it swatted to the sidelines.' She is deceptively quick in the post and also has the ability to step outside and knock down the 15-footer if left open.
Another freshman post player who could make an immediate impact is six-foot, two-inch center Katie Kees.' A talented post player and all-around athlete, Kees will add depth to the frontline for the Norse.' Her excellent shot-blocking ability will provide a strong defensive presence in the paint and disrupt the opponent's offensive play.
Freshman guard Jaimie Hamlet will help fill the void of guard play with the departure of last year's starting guards Danyelle Echoles and Slack. At 5 foot 8, Hamlet can play the point or the wing and is most known for her passing and scoring ability.
Freshman center Kelsey Simpson adds depth in the paint for the Norse.' Simpson, at six-foot, two,' is an excellent shot-blocker and rebounder, according to the NKU Sports Information Web site.'We don't have very much experience after losing four seniors,' Rayburn said. 'Our strength is that we are very competitive and hard-working and we stay together, no matter what.' The new players are starting to get the feel of the program and how we play NKU basketball.'