Event Preview: Halloween Hoopla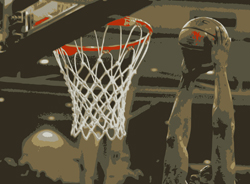 Photo illustration by Joe Castelli/Web Editor-in-Chief
All fans of Northern Kentucky University Athletics have been invited to the Halloween Hoopla event on Oct. 28 at 6:00 p.m. in The Bank of Kentucky Center.' Admission is free.
All NKU teams will be in attendance and they will be helping with games and trick-or-treating, according to the NKU Sports Information Web site.' There will be activities for kids and adults to enjoy, while free food and drinks will be provided by sponsors, Gold Star Chili and Pepsi.
The Halloween Hoopla event also marks the first occasion that the fans can see the 2009-2010 editions of the NKU men's and women's basketball team.' The teams will engage in intra-squad scrimmages so the fans can get a taste of what's to come. The scrimmages are set to begin at 7:00 p.m.
There will also be three point and dunk contests for fans to enjoy.' There will be opportunities for fans to meet the student-athletes and to acquire some autographs at the end of the event.
For information, call (859) 572-7665.
'