Records were made to be broken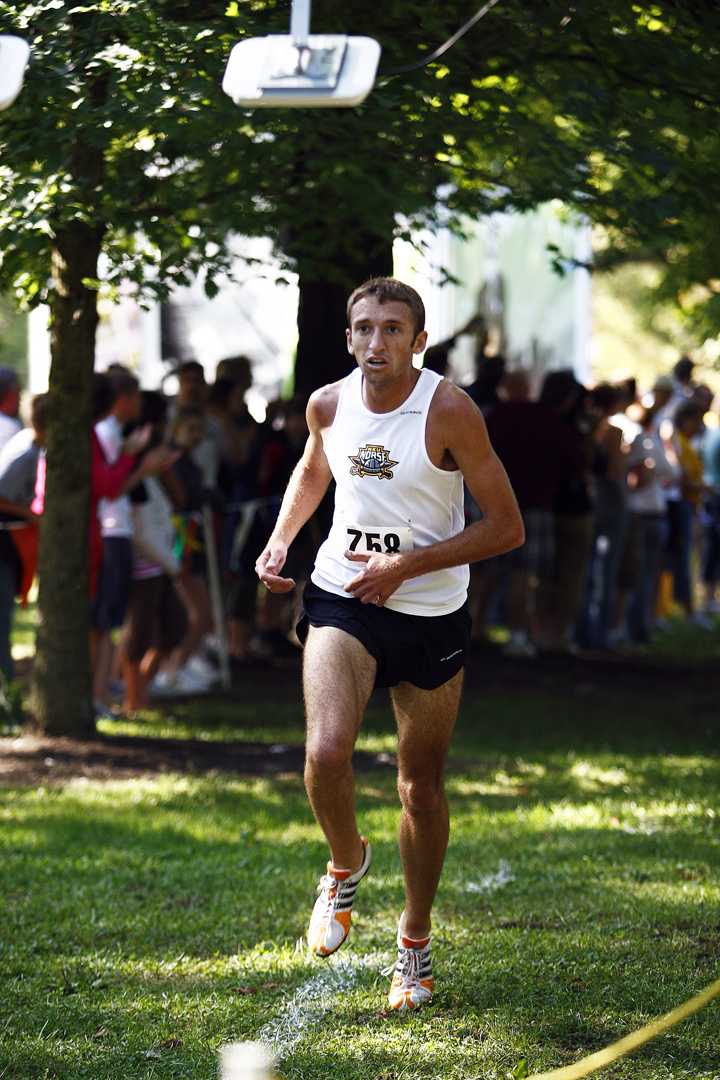 Tim Downer/Staff Photographer
Drew Harris is a cool, composed and stress-free individual, speaking with great dignity and logic. He is a college student who presents himself like a practiced businessperson. Doing all this, he still keeps his inner-youth by relaxing, body sunk into the chair, appearing as if he has no trouble in the world.
Drew Harris, junior political science major at NKU, would best be described not by his class standing or major, but instead by his athletic capability to break NKU school running records, along with becoming a three-time GLVC runner of the week.
Multi-faceted is the only way to portray this solid athlete who has taken Northern Kentucky University cross country records and shattered them '- one-by-one.
Harris set school records, recording a time of 15:16 in the Dayton Flyer five-kilometer run, and 24:34.71 in the Greater Louisville Classic eight-kilometer run. Harris loves braking school records and being an essential part of NKU history, and he did all this as an initial walk-on to the Norse.
'Weekly awards no longer matter to me, I care about leading this team to nationals, finishing top five in regional competition, making the all-GLVC team 'which I know I can do unless I break my leg,' and winning our conference,' Harris said.
Harris said running did not come straightforward, he had to work for what he has accomplished, 'my dad ran marathons, and I had no interest in baseball or football, so I ran, like my dad,' he said. Harris spoke of his uncle, a track coach, pushing him into running and really motivating him to run.
The most influence came when Harris was at Campbell County high school, where he recalled his coach having a big influence on his running, along with his work ethic. Harris succeeded in high school leading his team to a third place finish in state, and regional champions two years in a row.
'When I first met Drew in high school he was not a typical high school student. He was very well spoken and motivated,' NKU cross country Head Coach Steve Kruse said. 'Drew is the most self-motivated and disciplined runner I have ever coached.'
Coach Kruse dwells on the fact that Harris, not only has talent, but also uses it to the best of his ability. Harris sets high goals and goes after them.
'I have goals for running to keep getting better and better, until I am the best I can be, I just need to stay focused,' Harris said.
Kruse described Harris as dedicated, driven and logical, but with all this hype, it has to be difficult to focus on a team that has finished third, fifth, seventh and thirty-second in four races this season.
'It is very hard to focus on the team when Drew is breaking records, but we are a young team, and focusing on the team is important because as a team you will achieve more, as an individual it is difficult to advance because of the heavy competition in our conference,' Kruse said. 'Drew learned fast, so we look to Drew to be a leader for the young guys on a team that doesn't feature many upperclassmen.'
Harris puts time toward running, school and part-time work — when he can. He enjoys spending time with his girlfriend, going to high school soccer games and trying his best to be a normal college student, despite all the pressure he has to be great.
'Academically he is strong and studious,' Kruse said. 'It doesn't come easy for him, but he works at it.'
Luckily, for Harris, he will have the chance to travel and enjoy life – for once – when he celebrates his twenty-first birthday in Las Vegas, and hits the sea for a cruise during spring break, like any normal college student would. Thus proving, that he may come of as shy and collected, but behind that tough exterior is a fun, outgoing guy who will be ready to live life to the fullest, and his logic and humbleness will get him wherever he wants to go.
'